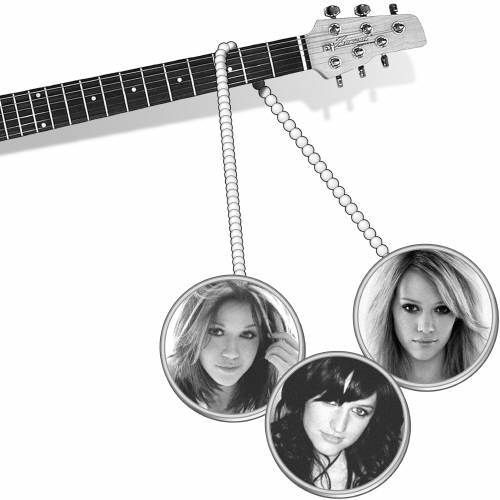 Britney Spears and Christina Aguilera were the only female pop singers whom office worker Kim Young-hoon (age 27) knew. Not long ago, he was watching a cable TV music channel when he was surprised.
"A beautiful blonde women is singing rock music…Who is she?"
The singer who captivated Kim was teen pop star Hilary Duff. With long straight hair and a slim body…Her appearance would be suitable for sexy dancing, but she does not sway her hips and instead screams to the guitar riff.
There are three beautiful female singers who have taken over the pop music scene: Kelly Clarkson (23), Hilary Duff (18), and Ashlee Simpson (20). Though it would be easy to think that they sing dance music at first glance, they will surprise you as they are all rock singers.
"Beautiful" Rock Music by Beautiful Caucasian Women-
Kelly Clarkson appeared on the scene by coming in first place in the music idol auditioning program "American Idol" in 2002 held by Fox TV of the United States. The same year, Clarkson secured the no. 1 position on the Billboard singles chart in the first week she released her debut single ballad "A Moment like This" in October. However, a rock quality was added to her second single "Miss Independence," and her new rock and roll song "Since U Been Gone," released this year, has recorded 600,000 MP3 downloads. Currently she is driving the momentum with a modern rock song "Behind These Hazel Eyes."
Eighteen-year-old Hilary Duff, who is referred to as the "second Britney Spears," made a spectacular debut at no. 1 on the Billboard album chart with her modern rock debut album "Metamorphosis" (2003). Her greatest hits package "Most Wanted" released in August is maintaining the top album position for two weeks in a row.
Ashlee Simpson, who took the no. 1 on the Billboard album chart with her debut album "Autobiography" last year, also was strong on the Billboard singles charts with the meditative rock number "Pieces of Me."
The three singers have formed a new female rock troika after "Avril Lavigne-Michelle Branch-Vanessa Carlton" in 2002, gaining full support from teenagers with easier lyrics and popular melodies.
Is It Popularization or Commercialization of Rock Music?-
Pop music experts point to easy rock music, popular melodies to which teenagers can sing along, attractive looks that are comparable to those in dance music, and continuous publicity as the secrets behind the troika's success.
The three singers have filled the void after the confrontation between "Britney and Christina" lost steam with Britney's marriage and Christina's preparations for a new album. As if to rebuff their monotonous contest of sexiness, the singers are forming a new trend in rock music, breaking away from the formula "attractive female singer=dance-music singer".
However, there are many who question the musical ability of these singers. Pop columnist Lim Jin-mo said, "Singing rock music is a tactic to show that they do not lack musical ability." It is an effort to break away from the sense of inferiority that attractive, slim female singers must naturally be dance-music singers. As if to prove this fact, their music are at no.1 and no.2 on the Billboard album or singles chart, but they are not listed on the rock chart.
Singer Yoon Do-hyun said "The identity of a rock musician is determined by the existence of the 'rock spirit,'" and pointed out the limit of these singers, saying "You cannot become a rock singer with just lyrics, songwriting, and performance styles. A true rocker must sing from the heart."
bsism@donga.com