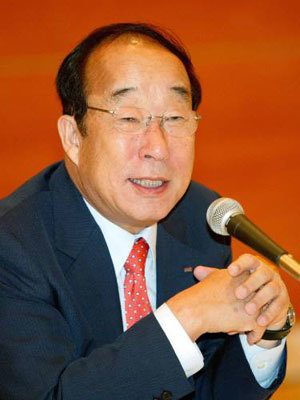 "It was a really tough election because I faced a series of disasters at home and abroad. There has long been a rumor going around in the international judo community that 'Park Yong-sung will get arrested.' I had tough times assuring representatives from member states swayed by the rumor."
Park (photo) has been re-elected for a third term in office as the President of the International Judo Federation (IJF) at the World Judo Congress held at the Cairo International Conference Center in Egypt on September 5.
Park has avoided mentioning allegations about a slush fund involving the Doosan Group, which he chairs. However, he said after the election that "the issue has greatly affected the election." He went on to say that "e-mail bound for Korea was circulating among the IJF member countries that 'Park Yong-sung will get arrested.' The other candidate implicitly exploited it."
In fact, the Korea Judo Association asked media outlets in Korea to verify the rumor going around on the day of the election that "Park had his home searched."
In a close vote, Park defeated European Judo Union president Marius Vizer (Austria) by 15 votes.
"I never thought I was going to lose in the first place. But when Lassana Palenfo, the president of the African Judo Association, turned his back right before the election to publicly support Vizer, I came to my senses."
President Park bit his lips, saying that "the international sports community is the same as the political circle. It is common that today's friend becomes tomorrow's enemy. Just a day before the election, Palenfo told me that 'I cannot let the IJF be presided over by Vizer,' but then he later turned his back against me. I really felt betrayed."
Park was chosen as the president of the IJF in 1995 and won a second-term in 2001. He said that "as recently as last year, I thought I would not run for president any more. But I changed my mind at the urging of President Kim Jung-haeng of the Korea Judo Association who told me that 'you should run in the election for Korean Judo and the successful bid of PyeongChang to host the 2014 Winter Olympics.'"
He added that "I booked my flight back to Korea in case I lost in the election. Now I will watch the World Championships at ease starting from September 8."
Jae-Yun Jung jaeyuna@donga.com