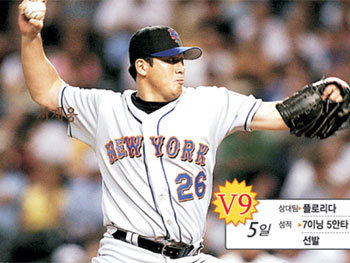 "May it be like this all the time."
Korean pitchers have been showing remarkable performances in the Major Leagues since late August. They are appearing on the mound almost every day consecutively, and are winning ever time.
September 5 was "control artist" Seo Jae-ung's (28, New York Mets) turn.
In a road game against the Florida Marlins at Dolphins Stadium, Seo won his seventh victory of the season (7 wins, 1 lose), pitching seven innings and allowing five hits, two walks, and one run. This is his sixth consecutive victory since beating the Philadelphia Phillies on May 5. With his sharp ball control, he struck out six and lowered his ERA to 1.79. His fastest pitch was clocked at 148 km/h.
It was a feel-good win for Seo personally, and to the team it was greater than a precious victory. The Mets had been on a four-game losing streak until the previous day, and its chances of grabbing the National League wild card was dwindling. With Seo's victory, however, the losing streak ended. The team is now 2.5 games behind the Philadelphia Phillies, the current wild card leaders.
With this win, Seo has a chance of earning 10 wins for the first time in his career. Seo has won five out of six games as a starter since August. He is expected to start around four more games. His best season so far was his rookie season in 2003 when he had nine wins.
Seo allowed his single run in the fourth inning after two outs. A wild pitch against Mike Lowell allowed the runner on third base to score. In the fifth inning, he gave up consecutive hits to Juan Pierre and Luis Castillo after getting two outs, but did not allow any more runs by forcing Miguel Cabrera to fly out. The Mets batters scored little by little from the beginning, winning the game 7-1.
By winning this game, Seo continued the Korean pitchers' nine-game winning streak that started with Kim Sun-woo's (Colorado Rockies) victory on August 22. Recently, Kim Sun-woo won on September 3 and Kim Byung-hyun (Colorado Rockies) won on September 4.
On September 7, Park Chan-ho will go for the Koreans' 10th consecutive win, starting against the Rockies.
uni@donga.com