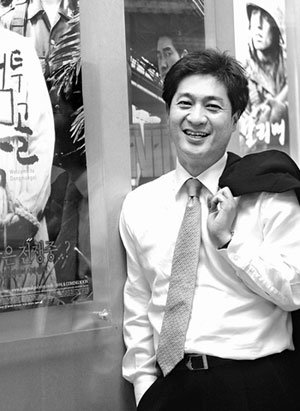 Kim Woo-taek (41), the CEO of SHOWBOX, a film investor and distributor, is a rare kind of gambler. He makes every movie that he is engaged in an "out-of-the-park homer," not just a hit.
The number viewers of "Taegukgi," which SHOWBOX invested and distributed last year, exceeded 10 million, setting the record of the largest domestic audience in history. Again this year, the company set the box office record over the first half of this year with "Marathon" (5.18 million-strong audience), and is setting a new record for the second half with "Welcome to Dongmakgol," outdoing "Marathon." Kim is with the Midas touch.
I Choose Fun Movies-
-"It is almost certain that your company topped the list of film distributors this year…"
"Being No.1 in distribution is meaningless for audience. Movie-goers will only have the memory that they saw the fun 'Marathon' and the fun 'Welcome to Dongmakgol.'"
-What is your know-how in deciding investment and distribution?
"Simple. I choose fun movies."
-"Fun?"
"From the standpoint of movie fans, there are two types of popular movies: Fun movies and non-fun movies. I always wonder whether a movie is fun or not. When we were thinking of choosing 'Marathon,' my staff presented a bewildering array of analyses. They talked about the subject matter of autistic person, a rookie director, overall flow of drama and so on. So I asked, 'Is it fun or not?' They all said, 'It's fun.' Then I chose it."
Kim said that he tries not to be detached from the taste of young people. He was shocked after recently visiting a club in front of Hongik University.
"In the past, you had to be a good dancer in a dancing place. But these days people just continue to sway, holding a bottle of beer. (laugh) Now there's a difference of feeling and not-feeling, rather than that of a good dancer and a bad dancer."
-What is the most important element of "fun"?
"Drama. I believe a movie with a strong drama is successful. The size of drama equals to the size of emotion, and the size of emotion is the size of movie."
Kim found his first job in Samsung Corporation after graduating from Seoul National University as a business administration major. He became engaged in the film industry when he shifted workplace after meeting Lee Hwa-kyung, who is now the CEO of Orion.
"Is Your Dad Kang Je-kyu?"-
-How the perspective of a businessman helpful of movie business?
"I found that, after investing, film investment and distribution companies were just waiting doing nothing until the prints arrive about two weeks before the first run of the film. They suddenly became busy after seeing the print, saying "Oh, no," or "Fantastic." (laugh) I wondered why investment and distribution companies should just wait. I transformed the role of investor and distributor into a more proactive one which closely consults with producing companies from start to end. But it seems that I was recently influenced. (laugh) I did not understand why directors feel regretful about scenes that are removed during editing, but now I feel it very sad."
-You sparked controversy after you took charge of Megabox, a multiplex, by advancing the dates of releasing new movies to Friday and differentiating ticket prices for each screens. Some industry insiders criticize that you compromised the culture of the industry.
"My answer is, 'That's true but I can't help it.' I think such attempts proved successful because that successfully grew the pie itself. The size of Korea's film industry is about 800 billion won a year, while Samsung Electronics' net profit in the first quarter stands at one trillion won. (laugh) It's no good for anyone to share a small pie. There is no such market that everyone thrives."
Kim emphasized, "Only when feeding the family (staff members) with profits can a company and culture exist," citing a line from "Welcome to Dongmakgol": "We should feed them well."
He laughed, saying that it is hard to have his second-grader son have a correct understanding of his career. "Since my son doesn't understand "investment and distribution," I just told him that I made 'Taegukgi.' My son boasted of that and his classmate said the next day, 'Is your dad Kang Je-kyu?' It's difficult."
Seung-Jae Lee sjda@donga.com