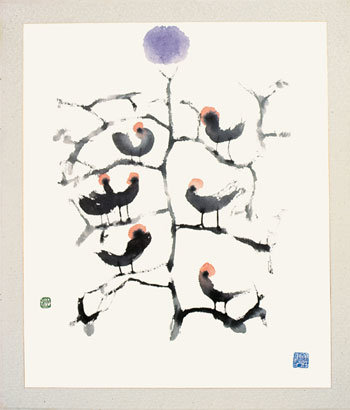 Sanjung: Art Comes before Education or Power-
At the age of 20 in 1949, Sanjung Seo Se-ok received the Prime Minister Award in the first National Art Exhibition for his work, "Flower Seller," and the Minister of Education Award in the third National Art Exhibition in 1954 for "Halo Around the Moon." He became a professor at Seoul National University (SNU) at the age of 26, and was a National Art Exhibition judge by the time he was 32. For several decades afterwards, he fostered a great number of younger students in SNU, and enjoyed both fame and power in the art arena as dean of the College of Fine Arts in SNU, and president and chairman of the Korean Fine Arts Association (KFAA).
Taking a look around the exhibition room, however, one could tell that he is hidden under a veil to a greater extent than expected. Before he was an educator and a power figure in institutional art, he was an artist, and moreover a leader of the avant-garde.
Exhibition Hall I is where his experimental mind shines. In "Noon" (1957), which shows the dynamism of noon in strong dark brushstrokes, and "Epitaph" (1962), which is an arraignment of spots, the brushworks exhibit both the emptiness and the liveliness of life. "Sleeping Bird" (1980), which is made of a single brushstroke, show the aesthetics of moderation. In works that portray the way clouds gather and scatter with a few dots in the middle of the canvas and around it (Space Where Clouds Gather, 1976; Space Where Clouds Scatter, 1977), we can see an ingenuity that overturns the aesthetic of space that is a characteristic of traditional Korean art.
These works prove that Sanjung's achievements are the result of his overcoming of other people's disregard. At the time when oriental paintings were known only as pictures of scenery, birds or flowers, his painting consisted only of dots, lines, and ink traces. This was a challenge against the previous generation. When he founded Mukrimhoe in 1958 with his pupils, the artistic circle sneered at this young professor's boldness. Sanjung reminisces that he was often called "crazy."
In Exhibition Hall II, which consists of huge works that are taller than human height, the "Human" series that Sanjung started in his 40's and developed into his characteristic brand are on exhibit. With a single brushstroke, he portrayed a waiting person, a lonely person, a discouraged person, a dancing person, an angry person, and a laughing person. Making free use of thick ink brushwork, light ink brushwork, and shading brushwork, his works are full of striking lines that look like "the wind is blowing and thunder is striking," as the artist himself expresses them. The anguish and perspiration of an old artist who took a lonely path in search of a way to "express man with nothing but brush and ink" are shown intact.
Showing Every Trace of Scattered Strokes and Wastepaper-
The engravings and sketch works that are exhibited between the two exhibition halls are also interesting. It is as like coming face to face with Sanjung's naked face. Sanjung, who has always striven to achieve perfection, shows all the traces of the numerous wrong strokes and wastepaper that he has produced to make the single perfect stoke.
Able to write Korean traditional poetry with ease, Sanjung is one of the last writer-artists of our time, and when he concentrated on engravings, people said he was making "excursions," but those works were actually the result of an invincible artistic spirit during a period when he spent his time alone in his room due to a serious illness. In these works that are the product of pain and solitude, we see the loneliness of an old artist who has been surrounded by people all the time, but has been waiting all his life for the single one who could understand him.
Born during the time of Japanese rule and a live witness to major events in modern history, such as independence, division, war, and industrialization, Sanjung is one of the few living patriarchs in Korea's art arena. He has stood strong in abysmal periods of depression and emptiness when a day would have felt like 10 years, and now he is showing his all for his juniors.
The exhibition will run until October 30. There are no fees in addition to the admission fee for the Deoksugung (1,000 won). For more information, call 02-2022-0613.
Mun-Myung Huh angel@donga.com