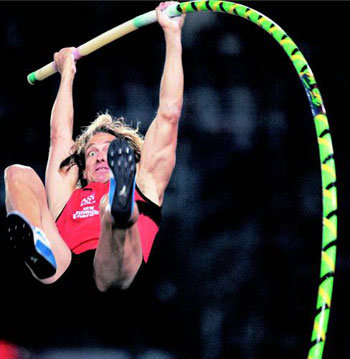 Kim Yi-yong forfeited the race, and Je In-mo came in 54th, Cho Geun-hyung 60th….
This is the disastrous report card of Korean marathoners in the Helsinki World Championship which ended recently.
As bad as this marathon is, other contests are just barely good enough to be competed. The Korean men's 100 meter record has not been broken for 26 years, and the record for the men's 200 meter (20.41 seconds by Jang Jae-geun in 1985), women's discus throw (51.64 meters by Kim Sun-hwa in 1984), and men's 10,000 meters (28 minutes 30.54 seconds by Kim Jong-yoon in 1986) have remained unchanged for 20 years.
Everything is Different with Samsung in Charge?-
Since former Chairman Lee Dae-won of Samsung Heavy Industries took office as the head of Korea Athletics Federation in 1997, athletes have had high expectations. They hoped that Korea's top company Samsung which seeks to be world-class would invigorate Korea's athletic sports with massive funds. However, the results were disappointing.
The number of marathoners has steeply declined from over 100 when Park Jung-ki (former president of KEPCO) was head of the federation to 60. Only two marathoners, Lee Bong-ju and Ji Young-joon, can finish a marathon within 2 hours and 10 minutes, and only one woman marathoner, Lee Eun-jung, can finish within 2 hours and 30 minutes.
Is the Korea Athletics Federation the PR office of Samsung?-
Japan uses domestic marathon races as a preliminary for the Olympics or the World Championships. This is because star athletes need to run in domestic games frequently for young players and the public to take interest in the sport.
However, Korea quietly changed the regulations from the 2000 Sydney Olympics so that athletes can qualify even if they run in overseas races. Lee Bong-ju has not run in a domestic contest for the last four years. Instead, he performed well in overseas races including his victory in the 2001 Boston Marathon, helping to promote Samsung greatly.
Samsung's monopoly of athletes is also problematic. Lee Bong-ju and Lee Eun-jung had previously been trained on a different team. There was even a case in which a promising athlete who was supposed to join Kolon joined Samsung Electronics instead.
The federation has upgraded the half-marathon with relations to Samsung into a full course even though Korea already has the Seoul International Marathon. This is the first case in the world that the unwritten principle of one international marathon in one capital city has been broken.
Jong-Koo Yang yjongk@donga.com