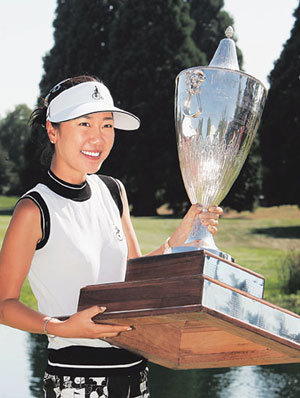 Why do Korean Female Golfers Perform so Well?-
It's because, in short, Korean female golfers have strong mental fortitude, are full of effort, and have a delicate sense of hand.
In addition, they undergo the most extensive training in the world since their time as junior golfers. Korean golfers also practice on the golf course at dawn and till the late hour during the LPGA championship.
However, why don't Korean male golfers perform as well as the women? Basic physical strength and physique matter in sports, and Korean male golfers certainly lag behind Westerners in those, but there is not much difference between Korean female golfers and Western female golfers. In particular, considering the nature of golf, a delicate sense of hand trained by handling chopsticks gives a substantial advantage to Korean female golfers.
Power of Fathers-
Most of the Korean female golfers playing in the U.S. have fathers who serve as both their golf teacher and spiritual mentor.
They endure an arduous life in a foreign country, thanks to the devoted care of their fathers.
For this reason, it was inevitable that the "golfing father ruckus" (the incident in which fathers of Korean players were misunderstood for coaching their daughters) happened two years ago. The incident is evidence that the Korean golfers' brilliant performance have become an object of envy among other players.
Kang Soo-yeon wept right after her victory was confirmed. Kang said, "My parents should have been here…. They've had a hard time supporting me for years, but they didn't see when I won the tournament."
Will the Korean Long Run Continue?-
The five wins (including two wins in the major championship) by five Korean female golfers this year are all their first victories. Korean players in the U.S. are all favorites for the championship. It is obvious that the succession of victorious Korean female golfers' in the LPGA tour that started with Gu Ok-hee in 1988 will continue.
However, it's not very clear whether a player's individual streak will continue. Pak Se-ri, currently in a deep slump, is a typical example. Experts say, "A golf playing machine has limits. It is not easy to get out of a slump," and pointed out the problem of the local junior golf education, which contains almost no academic studies.
Young-Sik Ahn ysahn@donga.com