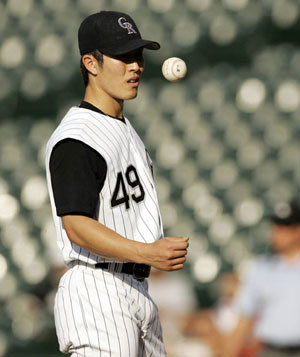 Kim Byung-hyun's (26) uniform number is 49 and Kim Sun-woo's (28) is 51. Both Kims are playing for the Colorado Rockies and started on the same day, earning the team two wins with pitching that scores 100 out of 100.
At the doubleheader between Florida and Colorado on August 9 at Coors Field, an infamous stadium for pitchers, Kim Byung-hyun started the second game and pitched seven innings, striking out four, giving up five hits and three runs, while walking three. The Rockies won the game 5-3. With the win, Kim Byung-hyun's season record is 3-8 with an ERA of 5.05. It is his first win in 45 days, or eight starts, and a valuable win, with the last victory coming against Kansas City.
Kim Sun-woo, traded from Washington Nationals, did not win or lose the first game, but had a successful debut with his new team, pitching four innings, with four strikeouts, five hits, no walks allowed, and giving up two runs.
The Rockies won the game in the 11th inning 4-3 with a game-winning home run by Dustan Mohr, and with the victory in the following game, are hot with a recent 7-2 record.
It was also the first time in 31 years, since 1974, that two pitchers with the same last name started in a doubleheader. The last time this was achieved was the Perry brothers, Gaylord and Jim, who played for Cleveland. Cleveland split the doubleheader.
In an interview with cable TV channel Xports, Kim Byung-hyun said, "When I am on the mound, I am the core of the offense. I always try to pitch aggressively." He also praised Kim Sun-woo, "Although it was unfortunate for Sun-woo to break his fingernail and bleed before the game, it was good to see him pitching confidently. He has been doing well in the past so I think he'll also do well in the future."
"I was worried because when I was pitching in the bullpen two days ago, the ball wouldn't go to where I wanted, but it turned out OK. I'm glad to be on the same team with Byung-hyun. It is fun to be together, and there will be lots to learn," said Kim Sun-woo.
Sung-Kyu Kim kimsk@donga.com