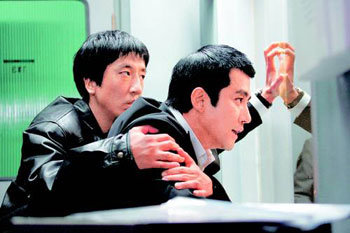 At Crime Scene Without Leads, Suspect Arrested in Two Hours-
If you consider the story of a film as bones and the actors as meat, director Jang Jin's fifth feature film, "The Big Scene," is a juicy piece of meat without the needless fat and only full of red meat. It doesn't have colorful food decorations (meaning special effects or action scenes) or aroma-releasing spices (fancy art or visual design), but this piece of meat gets sweeter as you chew.
"The Big Scene" is the most popular of Jang's films. Characters formerly seen in his previous films--such as a man who ends up being arrested after accidentally passing by one murder scene after another in "Amazing Men," a floppy spy from North Korea who gets robbed in a taxi in "The Spy," or hit men who offer a discount for student clients in "Guns and Talks"--are no where in sight. This time, a prosecutor, a suspect, and witnesses tell a very believable story about a murder in this investigation film.
Jung Yoo-jung (revealing the actress's name would spoil the twist in the movie), a beautiful copywriter, is found dead in room 1207 at a five-star hotel in Gangnam-gu, Seoul. She was stabbed nine times. The police arrest a suspect, Kim Young-hoon (played by Shin Ha-kyun), within two hours of the murder at the hotel parking lot, and prosecutor Choi Yeon-ki (played by Cha Seung-won), the living legend of the homicide department, investigates Kim. A broadcasting station airs the investigation process live for 48 hours, sponsored by the "Campaign Headquarters for Building a Healthy Nation." All goes well until Kim passes a polygraph test and puts Choi on the spot.
Cha and Shin Bring Laughter; Jang's Sense of Humor Continues-
Jang demonstrates a keen sense of balance between the theater aspect and the film aspect of the movie. Eighty percent of the film was shot at a two-story investigation headquarters set of about 350 pyeong built in the Art Service Studio in Hei-ri, Paju in Gyeonggi Province. The set is spatially-limited like a theater stage, but the cameras shrewdly move vertically and horizontally, making the place look like an open space and at the same time vividly capturing the psychological clashes and conflicts between characters that take place in a closed space.
Jang's sense of humor is once again brilliant. Cha does not intentionally try to make anyone laugh and Shin is taciturn. The two sit face to face in an investigation room filled with tension.
Cha: "Only answer in sentence form one with a subject and a verb when you talk to me, got that?"
Shin: "I…understand."
Cha: "Why did you take the gasoline container?"
Shin: "I wanted fire."
Cha: "That's sentence form three!"
Shin: "I suffer."
Cha: "What do you mean?"
Shin: "Sentence form one…hard."
This is a very serious situation and the two actors are not overdoing it, but you find yourself chuckling at this scene.
Shin Gu, Ryu Seung-ryong and Other Supporting Actors Offer Great Performances-
This film does not have a "scene of the year" scene, but it has a force that constantly draws the viewer's attention. The film has lots of lines and is occasionally funny, but the core of the story never diverts from its main path.
The broadcasting station suggests holding a shaman ritual to boost its viewing rate. Even that ritual strongly pulls you in. It is not a thriller, but has an amazing twist in store for you. Nor is it a horror film, but there is bone-chilling fear within.
Shin Gu, Ryu Seung-ryong, Lee Han-wee, Lim Seung-dae, Chang Young-nam and other supporting actors' performances are controlled and superb. Cha Seung-won finally seems to have learned the way to shine while benefiting from the supporting actors. In one way or another, Jang seems to have a great August ahead of him. The movie opens on August 11 and is rated for viewers ages 15 or older.
Dong-Yong Min mindy@donga.com