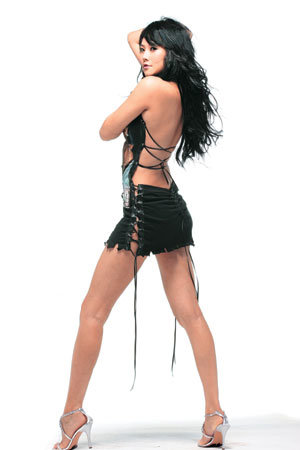 One of the keywords for the pop music world in the first half of the year was "remake." Singers such as Na Ul, Kim Beom-su, Lee Su-young, and Park Hyo-sin released consecutive remake albums. In the middle of controversy over remaking hit songs or making easy albums, singer Na Ul's remake album "Back To The Soul Flight" sold more than 210,000 copies and ranked the second place in the best seller album chart in the first half of 2005.
The recent remake boom has evolved one step further. Remake albums such as those containing only dance music and those with a singer's hit songs are getting attention. Is it the remake boom's second round?
Remakes by Genre Include Dance, Rock-
Singer Kim Hyun-jeong's album "Fun down 20" was the album that paved the way for remake albums. The theme of this album released on June 23 was dance. In addition to a remade song: "It hurts me" from an Enka song released by a Korean singer, Kye Eun-suk, in Japan, the album contains songs from various genres such as ballads, rock, trot, and enka which have been remade as dance music. Examples of this include "a station" by Kim Su-hui, "You who I came across" by Songgolmae, and "Funky town" by Lipps Inc.
Kim Hyun-jeong said she wanted to remake songs by her senior singers into cool and exciting dance music because it's summer now.
Maya, a woman rocker, released a rock remake album called "girls' age" on July 2. Her album remade songs such as "Outsider" by Spring Summer Fall Winter, "Unbloomed blossom" by Kim Su-cheol, and "Dawn train" by Five Fingers, which were hit songs in the 1980s and the 1990s, in her own style. Maya said she wanted to release a rock remake album mainly consisting of songs by her senior singers which she sang when she was young.
Meanwhile, Jo Hye-ryeon, a comedian, also released a remake album: "Anakana." It is a comic album which is made up of hit songs from the 1970s and 1980s in Korea. It remade "Wanted" by the Dooleys into "Anakana," and "She Bop" by Cindi Lauper into "Shwin Bab" (spoiled rice). She sang these songs as they are pronounced regardless of spelling.
Remakes by Theme: Jo Yong-pil and 80s Pop Songs-
A trio group, MC The Max, released a remake album called "Memory Traveler" consisting of 15 songs by Jo Yong-pil such as "Meeting again in the memory", "Come back to Busan port", and "A tea house in that winter" on July 28.
A trio group called SG Wanna Be which gained the most popularity in the first half of 2005 is expected to release a remake album called "SG Wanna Be Remake Classic" made up of hit songs from the 1980s such as "A jewelry box in my heart" by Haebaragi, "It's raining outside the window" by Haetbitchon, and "Paper crane" by Jeon Young-rok. SG Wanna Be explains the intention behind making a remake album and said they wanted to make an album that would appeal to people in their 40s.
Between Concentration and Boredom-
Some people pointed out the reason why project remake albums appear is because remake albums are becoming a kind of cultural style in the pop music world, an attempt to outgrow established remake albums that are just mixed with lots of genres and singers, and an intention to distinguish a singer's traits and forte.
However, pop music officials say unanimously that the fundamental cause is still a prolonged depression in the music industry. Kang Heon, a music commentator, said that remake albums are singer's rescue plan that reflects their fear that their new songs might not be popular after their release.
Im Jin-mo, a music commentator, pointed out that the strength of such albums containing a single genre and a singer's hit songs could be a weakness just like a double-edge sword as people may get bored with them easily. Im also mentioned the positive side of remake albums, however, saying that they can illustrate a singer's individuality and professionalism by breaking away from a simple mixture of songs.
bsism@donga.com