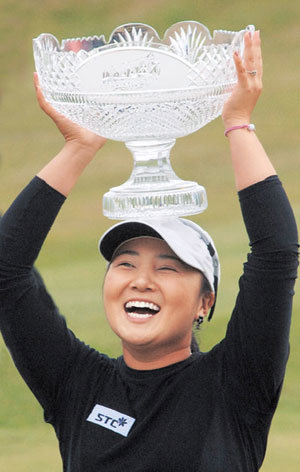 Jang Jeong, the youngest of three sisters, and Pak Se-ri are good neighbors in Yuseong-gu, Daejeon. Jang Jeong's second elder sister went to Yuseong Nursery School with Pak Se-ri, and they were so close that they visited each others' homes.
The opportunity for Jang Jeong to start playing golf is also attributable to Pak Se-ri. Seeing Pak playing golf, Jang Jeong's father (Jang Seok-joong) made his youngest daughter hold a club. Jang was good at sports from an early age. Jang Jeong started playing golf during winter vacation when she was in sixth grade at Jungang Elementary School in Daejeon. Since then, Jang Jeong has pushed herself to play golf, aiming at Pak Se-ri, who was the best amateur golfer at the time, while in Keumseong Girls' High School in Gongju City, Chungnam Province.
Kim Joo-yeon, who graduated from Sangdang High School in Cheongju City, Chungbuk Province, 30 minutes away by car from Yuseong, also idolized Pak Se-ri ever since she was in a high school.
When Pak was training in Seoul, after graduating from high school, Kim and Pak stayed in the same apartment and Kim received individual training from Pak.
Kim said at the ceremony of the U.S. Women's Open that she was very happy that she won the tournament Pak won before, and shared her joy with Pak by celebrating the victory afterwards.
As members of the national team, Jang Jeong and Kim Joo-yeon led Korea to a silver medal finish at the 13th Asian Games in Bangkok in 1998. The two of them also share similarities in that they achieved a valuable outcome after a long struggle, despite their gorgeous times as amateur players.
In addition, the three of them have one thing in common. They all won major tournaments for their first U.S. victories.
Pak won the Ladies Professional Golf Championship (LPGA) Championship in 1998 and the U.S. Women's Open that year, and won the British Women's Open in 2001.
Repeated hands-on experiences they had from an early age also played an important role in their great successes, as the Yuseong Country Club and Grand Country Club (Cheongwon-gun, Chungbuk Province), which has unsparingly supported junior golfers, are in their hometown.
Jang Jeong and Kim Joo-yeong, tied with the power of Chungcheong Province, are leading a shift in the generation of Korea's women golf, following their senior, Pak Se-ri.
However, there is a sense of regret for Pak Se-ri, who is in a severe slump.
Meanwhile, Jang Jeong will return to Korea in glory on Flight OZ542 at 12:30 p.m. on August 2.
Jong-Seok Kim kjs0123@donga.com