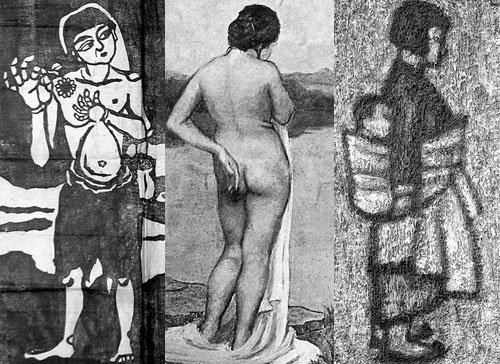 A total of 800 pieces of drawings, sculptures, fine arts, designs, ads, images, movies, architecture, and cartoons are being shown in the first half of an exhibit dating from the ruins of the Joseon dynasty through enlightenment, Japanese rule, Independence, and the times before the 4-19 revolution.
The most captivating of all the works is the recently unearthed Choi Ji-won's wooden engraving titled "Beggar and Flower." A monochrome wooden engraving contrasting a naked woman holding a bouquet with a young girl carrying water jugs, this piece was privately owned and its whereabouts previously unknown except for the fact that it was displayed at the 18th Joseon Art Exhibit in 1939 as Korea's first engraving owned by a Korean. The discovery of this engraving advanced 20 years of the history of contemporary Korean engraving which, up until now, had been thought to begin sometime around the late 1950s.
The exact chronology of Choi Ji-won, who was called as Juho, is obscure, but it has been told that he was born in a poor family, dropped out of Gwangseong Common High School in Pyongyang during his second year, and immersed himself into self-education and woodblock-making, earning himself the nickname of "Korea's Millet" from the Japanese.
The exhibit also features Kim Gi-chang's oil painting "Female Diver" (1936), and Kim Gyu-jin's India ink painting "Sejuk" (date unknown), on public display for the first time. "Female Diver" won an award in 1936 at the 15th Exhibit and viewing was only available through the 1999 edition of "Unbo Kim Gi-chang." Kim Gi-chang introduced this oil painting in "My Love and Life," published in 1977 by Jungwoo Publishing Company as a piece that was completed amid five days of snowy havoc in late January at a ocean cliff near Hamheung where he went in search of a fantastic background for his already-drawn four female divers at a beach in Mokpo.
Sculptor Moon Shin's 1948 oil painting "Fishing," professor at Repin Art Institution in Russia and significant contributor to North Korean art Byeon Wol-ryong's 1953 "Portrait of Kim Yong Jun (North Korean writer)," consecutive works like "Portrait of North Korean writer Lee Gi Yeong," and Korean abstract design veteran Lee Sun-seok's 1931 pieces are also on public display for the first time.
Other works, like Korea's pioneer nude artist Kim Gwan-ho's "Dusk" (1916), and Kim Man-sul's bronze "Emancipation" (1947), as well as Lee Kwae-dae's "Self-portrait Wearing An Overcoat" (1948-49) are also historically prominent pieces.
The museum is planning on skimming through the history of Korean contemporary art through printed material like newspaper and magazine clippings, and other imagery that reflect the times of the past. An opening performance called "Sound Performance: Back to the 1930s" and a Korean modern movie festival (August 12-14) are planned. The exhibit runs until October 23. For more information, call: 02-2188-6000.
Mun-Myung Huh angel@donga.com