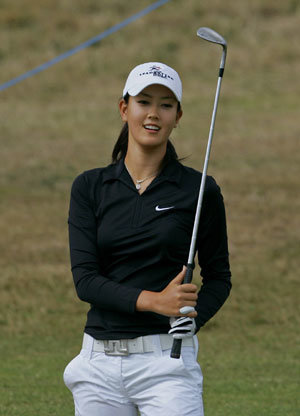 "I'm going to realize both my dreams of becoming a professional golfer and going to college."
"Long hitter" Michelle Wie (15, Korean name: Wie Sung-mi), rumored to be turning pro in the near future, has declared her intention to "catch two rabbits at once."
At the official press conference for the 2005 British Women's Open (total purse: $1.8 million) which opened on July 28 at the Royal Birkdale Golf Club (par 72) in Southport, England, Wie stated, "Going to college and turning pro are two separate matters. I want to get a college education, but I also want to succeed as a professional golfer."
Recently, Golfweek, the Golf Channel, and local daily newspapers in the Hawaii region reported the prediction that Michelle Wie would make her professional debut at the Samsung World Championship in October, when she turns 16.
To the question, "Do you think you can make it simultaneously as a pro golfer and a college student?" she confidently replied, "Yes, I do. I plan to major in business administration."
Last year, Michelle Wie had the opportunity to represent the U.S. in England for the Curtis Cup (a biennial match between British and American amateur golfers). Wie remarked, "The course here is quite different from those at other golf clubs. I've been honing my low-trajectory shots, so I feel I could be competitive."
Wie, who was first runner up three times this season on the U.S. LPGA Tour, said of her recent success, "I think I'm gradually improving. I'm getting close to winning. But at the John Deere Classic and the Public Links Championship (both men's competitions), I realized just how important those last five, six holes can be."
Wie appeared at the press conference wearing a windbreaker. "I didn't know it would be cold here, so I didn't bring any sweaters or other warm clothing," she said in explanation. "But I found this jacket in a gift box that Jesper Parnevik sent, and I plan to keep wearing it."
Meanwhile, Sweden's "empress of golf," Annika Sorenstam, said in response to a question about Michelle Wie on the same day, "I think she's the future of women's golf. She's a very talented young player."
Young-Sik Ahn ysahn@donga.com