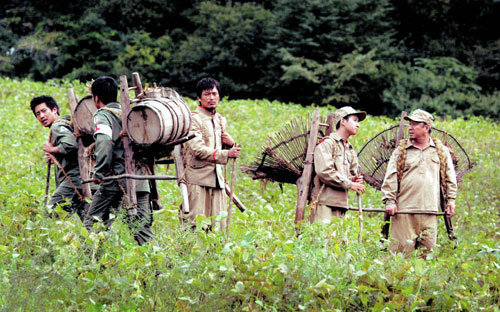 The movie "Welcome to Dongmakgol" has two magical aspects. One is the magic of time and the other is of language. These two magical aspects converge into a point quietly and skillfully. That point is a moment that you laugh so hard that a part of your heart feels vague as if a hole has been drilled into it.
During the Korean War, South Korean, North Korean, and American soldiers flock to a village called Dongmakgol in remote countryside of Gangwon Province. Deserter captain Pyo Hyun-chul (played by Shin Ha-gyun) and coward medic Moon Sang-sang (Seo Jae-gyung) who fell behind his unit are South Korean soldiers. Humanitarian captain Ri Soo Hwa (Jung Jae-young) and old soldier Jang Young Hee (Lim Ha-ryong) and child soldier Seo Taek Ki are North Korean soldiers. On top of that, American pilot captain Smith (Steve Taschler) has an emergency landing in the small village. As times goes on, all the soldiers pointing guns at each other gradually start to become assimilated to the unspoiled, innocent people of Dongmakgol. Hence, they all join hands to protect and execute a plan with their lives at risk to protect the village from bombing raids from both sides.
This movie knows how to play with time. Time is stretched and shrunk like a rubber band, and the movie that is running briskly suddenly stops time and holds a moment. Through that, the movie gains a strong sentimental explosiveness.
There are three parts in the movie where time freezes. The first is when a grenade explodes in a corn storage bin and makes popcorn rain from the sky. The second is when the main characters, comically chased by a wild hog, unite and attack back. Lastly is when the characters try desperately to save the village when bombs falls like flower petals right next to them. It moment when unforgettable images are left in everybody's minds, a decisive moment that warmly opens the hearts of South Korean, North Korean, and American soldiers who hated each other so much, and the violence of war converts magically into the beauty of friendship. All three scenes have no problems in being awarded as the scenes of the year.
This movie also knows how to handle language. In this happy but sad movie, the Gangwon Province dialect is the common language of a utopia called Dongmakgol, the driving engine to provide flexibility to the movie, and a message by itself.
When asked by North Korean captain Ri Soo Hwa, "What is the secret for your leadership?" the old village leader of Dongmakgol gives a short, truthful, and funny answer. "Well, you gotta eat lots of something."
Actress Kang Hye-jung, who was left a bit hanging in the air after the movie "Old Boy," has finally met a movie that fits her perfectly. Jung Jae-young creates spaces between short lines and expressions, hence creating tension, which also makes him a great actor.
Director Park Gwang-hyun, who used to shoot commercials, shows a very loose yet clever directing style, and it is unbelievable that this movie is his debut feature film. He is expected to be one of the few Korean directors that are strong on both drama and spectacle.
The village he depicts is tearfully beautiful, but his war scenes are so dry and gruesome they make one want to close one's eyes. If one wants to spend 8 billion won on a movie, this is the way it should be spent.
The movie opens on August 4 and is rated for viewers over 12.
Seung-Jae Lee sjda@donga.com