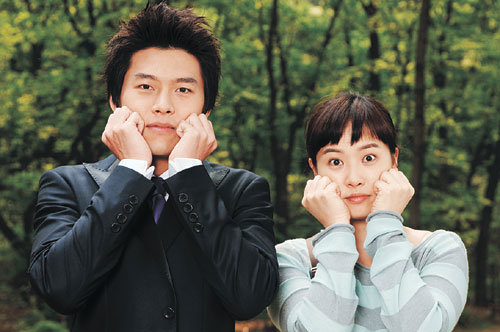 "There will be no fun when 'Sam-soon' (an MBC drama series) is over."
At 11:10 pm on July 21, many of its fans sighed. The MBC drama series airing on Wednesdays and Thursdays titled, "My Name is Kim Sam-soon," showed its last episode. The so-called "Sam-soon syndrome," which started since the show's first episode on June 1, reached its climax in its last episode. Its fans have wanted to know about the ending for a long time. As many as 10,000 inquiries have been posted as of July 21 in the afternoon by viewers curious about the ending. However its production staff has shot this week's episodes in secret, even changing their e-mail passwords to prevent the possible distribution of the ending episode scripts.
The ending of the last episode aired on July 21 was rather simple. Jin-heon (Hyun Bin) took Hee-jin (Jung Ryeo-won) back to the U.S., saying to Sam-soon he would return to Korea in a week, but he has not shown himself for three months and has not made any calls. Sam-soon, heartbroken, started to go out with another guy, but all of a sudden, Jin-heon appeared before her. The two got back together, wanting to get married, but face opposition from his mother, President Nah (Nah Moon-hee). The couple tries to have a baby by "making love before marriage." This fails, but their happy dates continue.
The audience talked to one another about this, saying "Sam-soon and Jin-heon would succeed in marriage at last."
The drama series, "My Name is Kim Sam-soon" was the hottest issue for the past eight weeks.
As of July 20, the 15th episode had a viewer rating of 47.5 percent (according to TNS Media Korea), and it hit the year's record high of 50.2 percent in the metropolitan area. There have been only five drama series with viewer ratings above 50 percent since 2000: MBC's 2000 "Heo-jun" (maximum daily viewer rating of 62.2 percent), KBS' 2001 "`Taejo Wanggeon" (55.5 percent), SBS' 2004 "Lovers in Paris" (57.6 percent) and MBC's 2004 ""Dae Jang Geum" (55.5 percent).
Various popular words of the main characters have dominated online bulletin boards, and inquiry calls on pastry chef courses have doubled with higher bread sales. In bookstores, the original novel, and the German children's novel Momo shown in the drama series have become bestsellers.
At core of the syndrome are Korean women in their 20s and 30s who identify themselves with Sam-soon, who is fat and has nothing to boast of. There are many women who feel satisfied as observers just by looking at her always confident and outspoken ways in a Korean society that focuses too much on appearances. One of the viewers named Kim Gwang-mi said on the bulletin board, "I was happy for two months. At least for an hour, I thought as if I were Sam-soon watching the drama."
Culture critic Kim Jong-Hwi (40), said, "The Sam-soon syndrome ironically shows that in an appearance-oriented society, pop culture such as dramas have not depicted women's daily lives of diligence and strong-mindedness, overcoming their frustrated desires."
zozo@donga.com