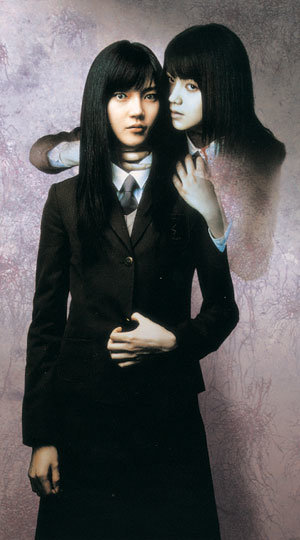 A few years ago it created a stir when it was revealed that a Korean three-women dance group that had released an album had their songs sung by other woman instead of team members. In the early 90s the dance-pop duo Milli Vanilli also came down in disgrace after it was known that they hadn't sung their songs. They had all lip-synched.
Lip-synching is possible when a side provides the lips and a side provides the voice. There has to be trust and dependence on the symbiosis for the relationship to continue. If any side, and in particular, if the side that provides the voice, refuses to co-exist and tries to become the sole protagonist then both sides lose their existential value. If there is no one to move the lips then there is no use for a voice.
"Ghost Voices" is the fourth movie of the "Yeogogoidam" (Horror at Girl's School) series, one of the steady franchise movies in Korean movie history. It uses voice as a subject to depict the anxiety and fears of a high school girl that tries to have her own whole identity but has to be someone else, hence yearning and becoming entrapped in a life of envy.
High School sophomore Young-eon (Kim Ok-bin) sings during music class instead of music teacher Hee-yeon (Kim Seo-hyung) who cannot sing due to throat cancer surgery side effects. One evening, Young-eon who is practicing singing alone at the music room hears another humming voice. Scared she runs away but she is killed by a music stand that flies toward her neck.
The next day, Seon-min (Seo Ji-hye), Young-eon's close friend and admirer of her songs, who is an announcer for the school broadcasting class, hears the voice of the dead Young-eon. At first Seon-min refuses to hear the voices, but gradually she accepts the existence of Young-eon who became a ghost. Seon-min and ghost Young-eon find out that there is another voice loitering in school, and they trey to find out whose is it. Meanwhile music teacher Hee-yeon commits suicide.
"Ghost Voices" is similar to the prequels in that it deals with mundane physical and mental experiences of teenage high school girls such as the anxiety of not fitting in and homosexuality (although that it deals with the uncommon relationship between a high school girl and a female teacher). However, if such parts are left out, "Ghost Voices" cannot erase the impression of having used the American movie "Sixth Sense" as a background after changing it a bit.
The main character of this movie is a ghost. After being killed early in the movie, Young-eon appears as a ghost that cannot leave school until the later part of the movie. The scenes are depicted and explained in the view of ghost Young-eon, to the point that even the ghost feels fear.
In "Sixth Sense" Malcolm (Bruce Willis) is a ghost and feels jealousy at his wife's cheating. If there is a difference, unlike Malcolm, Young-eon knows that she is dead and is aware that she is a ghost. Therefore, a remarkably surprising ending like Sixth Sense's "I found out that I was the ghost" is out of the question.
However, the movie intentionally borrows lines from Sixth Sense. Cho-a (Cha Ye-ryun), who can also hear Young-eon's voice like Seon-min, says, "I hear voices of ghosts," and warns Seon-min, "Ghosts only remember what they want to remember." The famous lines of eight-year-old Cole (Haley Joel Osment) of Sixth Sense were, "I see dead people," and, "They only see what they want to see." The "Ghost Voices" only changed the visual senses with audio senses.
Just as Sixth Sense watchers started to guess the ending with the words of Cole, "Ghost Voices" also slowly approaches the movie's hidden secret through the lines. The ending is shown through ghost Young-eon's awakening, but it is not suspenseful enough and too logically weak to be called a shocking ending.
In addition, too many people can listen to the voices of the ghosts, which is inconvenient for the movie. At first, Seon-min hears them, then Cho-a, and then it is known that Young-eon has also heard voices when she was alive. In the end all the students hear the voice. If this is so then the ghosts, who disappear when people forget about them and do not see or hear them, will never disappear from this school.
The movie opens on July 15 and is rated for audiences 15 years old and above.
mindy@donga.com