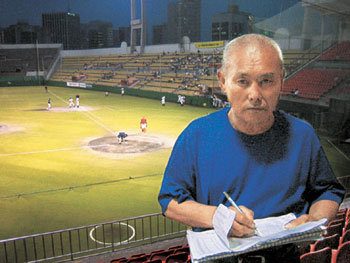 He just loved baseball. He was orphaned at the age of 19 when his mother died. Marginalized by the world and an uneducated have-not, he did anything to survive: he worked as a briquette-delivery man, construction laborer and baseball stadium sweeper. And he was dead lonely.
The only friend he had was baseball. After a day's work without which he could not maintain his living, he ran straight to the baseball stadium no matter where a game was held, be it in or outside Seoul. After baseball seasons, he even stared closely at training centers and dorms of high school teams. He has been doing this for 45 years now.
He is Choi Ki-joo (64), or "Doctor Baseball," known as the number one unique man in Dongdaemun Baseball Stadium. Having lived the history of a half-century of Korean baseball, he was invariably at the Golden Lion Flag National High School League Series on July 4, concentrating on the game,
He records a complex game of baseball and gives out the reports to players and their parents, encouraging them "to keep studying baseball."
These days, Choi, albeit suffering from cataracts, does chores for his church and a restaurant in turn and sleeps and eats there, saying with determination, "I will never stop going to the baseball stadium till my life permits."
Reporter Kim Jong-suk, kjs0123@donga.com
Dong-A Ilbo's intern reporter, Hur Young-yun (a senior majoring in Media and Communications at Yeungnam University) joined in reporting this article.