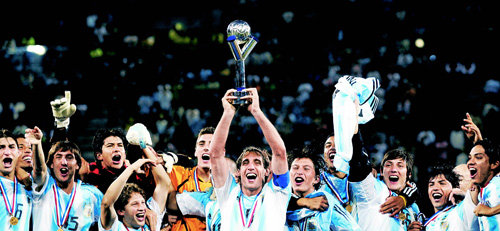 The 2006 Germany World Cup (from June 9 to July 9, 2006) is now one year away. The Korean soccer team, which has already secured a ticket to the 2006 Germany World Cup, is gearing itself up to create another syndrome in Germany next year, following the 2002 Korea and Japan World Cup.
A total of 12 stadiums in 12 cities will have matches in the 2002 Germany World Cup. An astronomical amount of two trillion won has been spent on the construction of 12 stadiums. On July 2, I looked around Allianz Arena Stadium in Munich, which is considered the most beautiful stadium among the tournament's 12 venues, and the one that will host the opening match.
Allianz Arena is located nearby the Fröttmanning station in the northern part of Munich, and is about 30 minutes away from the central station in Munich. After getting off the subway, I could see the whole stadium about one kilometer ahead.
While I was walking toward the stadium for 15 minutes, I didn't feel bored at all. It was because the singular and beautiful stadium featuring a magnificent oval-shape loomed closer little by little.
Going into the stadium with the guidance of the marketing manager of the stadium, Sebastian Ernst, I became speechless. The stadium, which was jointly designed by Swiss architects Jacques Herzog and Pierre de Meuron, is a work of art that has been exquisitely designed with state-of-the-art technology, not only visually, but also of sound.
The thing that distinguishes the stadium from the other stadiums is an external form that looks swollen up like a cocoon.
The surface is a collection of 2,874 air cushions, and this massive surface, with an area of 64,000 square meters, is made up of 0.2-millimeter foils.
Allianz Arena is the home stadium of the German professional soccer club, FC Bayern Munchen. I felt more familiar with Bayern Munchen because Bayern Munchen has officially announced that it has embarked on a plan to recruit "soccer prodigy" Park Joo-young (FC Seoul), recently. I closed my eyes for a while, and an image of Park drawing fans' chants, running in this beautiful stadium flashed across my mind.
jaeyuna@donga.com