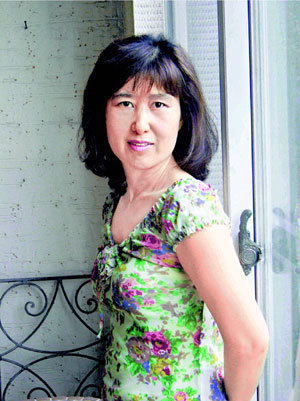 "Gauche caviar" in French means the expensive caviar (sturgeon eggs) that leftists enjoy eating. This is a metaphor for the satiated union staff and greedy leftist elites who enjoy a fantastic banquet, and speak of "revolution" while devouring meat.
Private fund manager Lee Joong-ho believes that the hypocritical and conniving politician Choi Han-suk is "gauche caviar" in "Strange Sadness in Wonderland." "Because they think of revolution while drinking wine and cherishing their vulgar greed of power, they are no different than gauche caviar."
Writer Jung Mi-kyung (45) debuted in 2001, and received the "Today's Writer" award the year after with her first novel, "Rosy Life." Her second novel, "Strange Sadness in Wonderland," illustrates the love, lust and ruin of those who have entered their 40s, a "386 generation" who are no longer called 386.
A couple that loves, respects and restrains each other while attending evening classes together since college, and a prostitute who dropped out of those classes to strive to climb the ladder to stardom, appear in the book. While dealing with common material like money and sex, the story unfolds through strict literary customs.
Fund manager Lee Joong-ho drives at 180 kilometers per hour in his Jaguar and nurtures the assets of the rich through the data on his light-speed monitor. Customer Choi Han-suk who solicits him with a bundle of money of unknown origin is a former athlete who was brilliant in his prime. Now Choi has made a name for himself as a politician, a spokesperson for the governing party.
Among prostitute Oh Yoon-hee's guests are Lee Joong-ho and Choi Han-suk. During Choi's teaching years at the evening school in the past, he impregnated Oh, whom he called "Yoon-ja," and deserted her in her abortion. Juniors who remember Choi watch his fevered tirades on television and solemnly pray to God.
"Sooner or later, a resume of suspension and imprisonment in this era will be better than American bachelors. If there are those whose hands have clawed at wallpaper and are now writing about interviews on pornographic actors for a living, there is my friend who published Marx and has built a mansion smack in the middle of Gangnam, so who's to say cheers to the innocent?"
Lee embarks on a risky gamble with Choi's money. He plunges into a financial scheme that a company has started, in a sunken treasure chest under the deep sea. Lee is savvy, but this game is unpredictable.
Lee, along with all the characters in this story, desires "wonderland," a fantasyland without worries. Despite this, avarice is not an option. Is this possible? What is "wonderland" like?
Although this book reenacts the world of sports and fund managing, a few unstable passages catch the eye. The passiveness of "Hyun-oh," who commits suicide to create breakthroughs for the athletic world but is hesitant before an argument between colleagues on his behalf, is one. The excerpt, "I bought strategic stocks and four days later it scored double," is unrealistic.
The introspective depictions and symbolic scenes that are evenly inserted throughout the novel, and a few sentences that scrape by to pierce the heart of reality, however, hold weight with arrested readers.
Ki-Tae Kwon kkt@donga.com