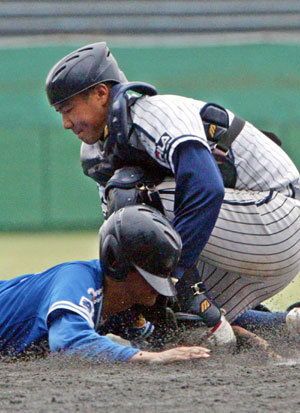 Armed with right-handed pitcher Lim Tae-hoon's quality pitching and 12 hits, Seoul High School secured a spot in the round of 16.
At the first round of the Gold Lion National High School Baseball Championship (joint sponsors: Dong-A Ilbo, Korea Baseball Organization), held at Dongdaemun Baseball Stadium on June 29, Seoul High School beat Kongju High School 12-4 in a cold game in the seventh inning.
Seoul High School scored runs from the beginning, continuously applying the "hit-bunt-hit" formula.
When Seoul High School's first batter Kang Jin-young got a hit in the first inning, Lim Tae-hoon's bunt sent him over to the next base, after which Kim Joon-mu walked to make a one-out, two-men-on-base situation. The next batter Lee Byung-yong's double then sent both runners home, giving the team a 2-0 lead.
In the second inning, Kim Woo-suk's infield hit was followed by a bunt from Kang Jin-young, and the team added another run with Lim Tae-hoon's double. The team then stretched the score to 4-0 with Kim Joon-mu's hit. Two hits and a walk widened the gap to 6-0 in the third inning.
Kongju High School started to pursue the lead from the third inning. Having scored a run in the third inning with hits and a walk against Park Saebaro, who started instead of ace Lim Tae-hoon, Kongju High School then knocked three hits against Lim Tae-hoon in the fourth inning, adding three runs to make the score 4-6.
Until this point, the situation was unpredictable.
However the game suddenly went in favor of Seoul High School when the pitcher lost control of his pitching. In the sixth inning, Kim Jae-hyun, Kongju High School's second pitcher allowed walks to three consecutive batters, loading the bases in a no-out situation. He caught Roh Young-suk's groundball, but a bad throw to first base allowed two runners to reach home. The pitcher's control became out of hand, and continual dead balls and errors caused the self-destruction. At the Korean Baseball Centennial Commemorative High School Championship in April, Lim Tae-hoon, who pitched against Dongsung High School's "monster pitcher" Han Ki-ju in the first round, lost although he allowed no runs until the 12th inning, but gave up one in the 13th inning. However, on this day he won his first nationwide game with three hits and three runs over 4-2/3 innings pitched, also making two hits and scoring one run.
Chang Jeon Sung-Kyu Kim jeon@donga.com kimsk@donga.com