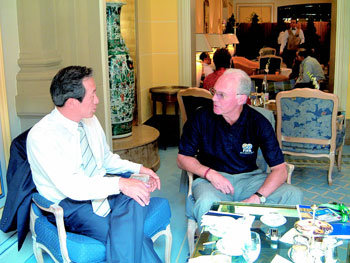 "If Park Ju-young (Park Chu-young) plays for the best soccer team in the German League and has a chance to adopt himself to the soccer style and atmosphere there, his experience will be of a great help to the Korean team in the 2006 FIFA World Cup in Germany. We hope chances to play in the Bundesliga will be given to as many talented Korean players as possible," said Korea Football Association president Chung Mong-joon.
Bayern Munich is the best in the German League and is also well known as a world-class soccer team. In recent times, the German Bundesliga itself is giving way to the English Premier, Italian Serie A, and Spanish Primera leagues, but the Bayern Munich soccer team has always been considered high on the list of the best European soccer clubs.
Since its start in 1900, Bayern Munich has produced a large number of talented players. In Germany's World Cup victory in 1974, their leading player, Beckenbauer, was a member of the Bayern Munich, and other key players, such as Maier, Muller, and Breitner were on that team, too. Afterwards, star players, including Rummenigge, Mateus, and Bremer played for Bayern Munich.
There are still unfinished procedures and negotiations between Bayern Munich and FC Seoul, the club that Park Ju-young currently belongs to. If the deal for Park Ju-young's transfer to Bayern Munich is made, a stormy sensation by Park is expected, and it will be comparable to the wave Cha Bum-kun (presently coach of Suwon Samsung) made while playing for Frankfurt and Leverkusen.
"In the semifinal match between Korea and Japan in the 2002 Korea-Japan World Cup, Germany defeated Korea, 0-1. However, in an invitation game last year, Korea defeated Germany, 3-1. Since we're even now, maybe we need to meet in the final round and see who is the winner in the last," said Chung to Bayern Munich president Franz Beckenbauer. "I'll arrange a goodwill match between the two nations sooner or later," replied Beckenbauer.
"It would be a good idea if the street cheering of the 2002 Korea-Japan World Cup is made in the 2006 World Cup in Germany," suggested Chung. "I'm planning to encourage cheering outside the stadium by preparing large screens in several places in the city," said Beckenbauer.
Jae-Yun Jung jaeyuna@donga.com