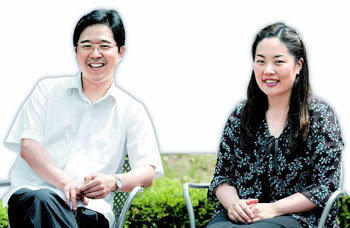 Young music played by a 30-something conductor and pianist will mark the finale of the 2005 Symphony Festival. The KBS Symphony Orchestra concert scheduled at 8:00 p.m. on June 30 in the concert hall of Seoul Arts Center will feature Sohn Eun-jeong (35), a pianist who won the grand prize at the first-ever audition for featured musician of the festival for Beethoven's Piano Concerto No.5, "Emperor." The conductor will be Seong Gi-seon (37), who was called a "prodigy conductor" and made his debut at the age of 17 as conductor of the Seoul Youth Philharmonic Orchestra.
On the afternoon of a sunny summer day, the two people met at the plaza in front of the concert hall of Seoul Arts Center, where their concert will be held.
Seong Gi-seon: "We just said hello to each other yesterday at a concert. It's very nice to have a chance to talk to you. I heard that you went to Seoul Arts High School with my wife."
Sohn Eun-jeong: "Your wife, or my friend, posted congratulatory remarks on my "mini-homepage" (laugh). You are the conductor of the orchestra of the Pre-college division of the Julliard School of Music as well as the music director of the New York Sinfonietta. You must feel burdened to teach students who will grow into masters in the future."
Seong: "Maestro Jung Myung-hoon was also in that position. I feel a sense of responsibility because I teach talented students who are at the stage of life that they find the attraction of orchestra for the first time. You are featured with top orchestras, such as the Prague Chamber Orchestra, while continuing to hold soloist and chamber music concerts."
Sohn: "Perhaps that's because I'm very enthusiastic. It's a great pleasure to create an ensemble with artists with different personalities as well as play vocalist accompaniments."
Seong: "You are actively engaged in performances in the U.S. But I think it must have been hard to make this kind of opportunity had it not been for an audition for the featured musician in the symphony festival."
Sohn: "There are many performers enjoying recognition overseas. But it is hard for them to have a concert in their homeland. I think it is a mutually happy attempt which connects young performers and their home fans."
Seong: "You will be featured on Beethoven's Piano Concerto No.5, "Emperor," and the main program is Tchaikovsky's Symphony No. 4. It seems some think that "Emperor" is loosely arranged, compared with concertos No. 3 and No. 4.
Sohn: "But it has various features, which is an advantage. The cheerful leap of the third movement shows the sense of a waltz that is freed of all kinds of worries."
Seong: "For sure, Beethoven in his later years reveals the sense of freedom from formality. As I agree on that, there's already the basis for a good feature concert" (laugh).
Sohn: "I hope we join forces and can offer a great performance to audience. See you in the practice room."
Majoring in conducting at the Curtis Institute of Music, Seong won second prize in the 1991 International Contest for Young Conductors held in Portugal. He worked for the Chicago Symphony Orchestra as assistant conductor to Music Director Daniel Barenboim from 1999 to 2000.
Sohn Eun-jeong graduated from the Peabody Institute with an artist's diploma. She is currently engaged in soloist performances, chamber music concerts, and featuring with symphony orchestras mainly in Washington.
Ticket prices range from 10,000 won to 30,000 won (02-580-1300).
Yoon-Jong Yoo gustav@donga.com