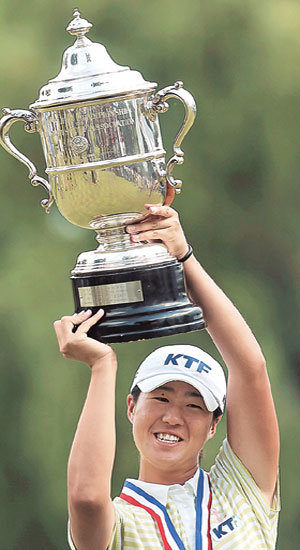 It was like a dream.
I wanted to pinch myself.
I forgot all my pain as the tears of happiness flowed freely down my cheeks.
On June 27 at Cherry Hills Country Club, Colorado (par 71) this year's third major LPGA tournament, the 60th US Women's Open (total prize money of $3.1 million), ended.
"Birdie Kim," Kim Ju-yeon (24, KTF), ranked in first place with a 3-over par 287 total by birdying on the 18th hole (par 4) in the fourth round with an unbelievable bunker shot. Morgan Pressel (17, USA) and Brittany Lang (19, USA) tied for second place (5-over), by a two-stroke margin.
Kim Ju-yeon has brought joy to Korea by being the first Korean to win this tournament in seven years since Pak Se-ri (CJ) captured a hard-fought victory back in 1998, during the financial crisis.
She has become Cinderella, but the road has been long.
Jong-Seok Kim kjs0123@donga.com