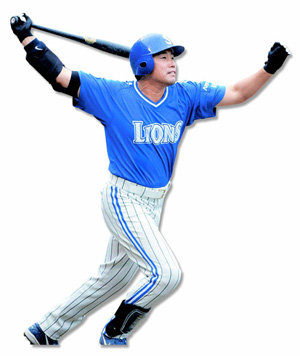 "As usual, I just ran straight, thinking that I am going my way. I am happy to write new chapter in the history of Korean baseball."
Those were the words of Samsung batter Yang Joon-hyuk (36, shown in picture) who hit a single in the fifth inning of the June 25 match against SK played in Incheon Moonhak Stadium, and who broke the previous career hit record of 1,771 set by Hanhwa Batting Coach Chang Jong-hoon.
Yang hit a one RBI single more in the ninth, bringing his record to 1,773 hits and continuing his record-setting streak.
After signing up with Samsung in 1993, and 13 seasons later, he has pushed forward like a locomotive with no brakes.
In his rookie year he recorded 130 hits, reaching a peak of 161 hits in 2001, and he has had over 143 hits on average every year. His record of hitting over 100 hits for 12 straight seasons since his rookie year is a peerless record.
It is no exaggeration when people praise him that he can hit .300 even holding his bat backwards. The current record was set in 13 seasons, 1,569 games, and 5,536 at bats.
It is three seasons sooner than Chang's record, which was set over 16 seasons, 1,949 games and 6,290 at bats.
Yang's contract with Samsung will expire this year, but it is sure that he will play two or three more seasons, so it is not unrealistic to expect him to break the unprecedented "2,000 hit" record.
Yang has also surpassed Chang's career record of 331 doubles with 349, and is in the verge of setting new records in career base-on-balls, most RBIs, most runs, and almost every other category in batting.
Having won the batting title four times (93, 96, 98, 2001), going 11 seasons over .300 (including nine straight seasons between 1993-2001), the "master of batting" Yang is only one homerun away from becoming only the second player to hit over 10 homeruns for 13 consecutive seasons.
Sung-Kyu Kim kimsk@donga.com