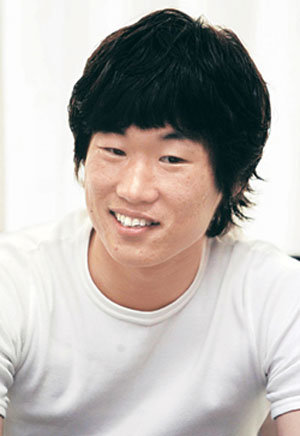 "A True Big Leaguer Should Stand on his own Feet"
Park Ji-sung (24, Manchester United, photo) has become the first Korean player to play in the English Premier League. If he is to be a genuine "big leaguer," there are many tasks ahead of him that he will need to overcome.
Dong-A Ilbo examines the strategies that will make Park a prominent player in the Premier League.
Standing on His Own Feet-
KBS commentator Lee Yong-soo (Sejong University professor) said, "In order for Park to be the best in the world, Park should now stand on his own feet. In order to win a competition against world-class players, a fight against himself is important."
Commentator Lee further stated that Park's strengths, integrity, and mental power that shine all the more in a difficult situation, will become the most important assets for Park to succeed in Manchester as well.
SBS commentator Shin Moon-seon advised, "It's also necessary to acquire a kind of mentor (a wise, reliable advisor), to whom Park can open his heart and consult with regarding his worries.
Win over Coach Alex Ferguson-
Commentators Shin and Lee agreed that Park should make efforts that satisfy Coach Ferguson's requests. Shin and Lee's possible scenario of Ferguson's plan to use Park on the team is to revitalize the team, in substitution for the old midfielders, including Ryan Giggs, Roy Keane, and Paul Scholes.
In addition, Lee pointed out that winning teammates' trust is as important as competing and that without teammates' supporting fire, a player can't succeed in soccer.
Don't Hurry, Take Some Time-
Commentator Lee advised, "The Manchester United team has to have at least two matches a week, including the Premier League and the Football Association (FA) Cup. Park, with a strong body and recuperative powers, will then have many opportunities. If Park does not hurry, and if he does his best with ease and confidence, he is sure to satisfy Coach Ferguson with his brilliant play."
Meanwhile, Park, who will return to Korea on June 25 after finishing medical testing, is expected to play in his debut match with Manchester United in their away game against Everton FC on August 13 in accordance with the 2005-2006 Premier League season schedule.
Jong-Koo Yang yjongk@donga.com