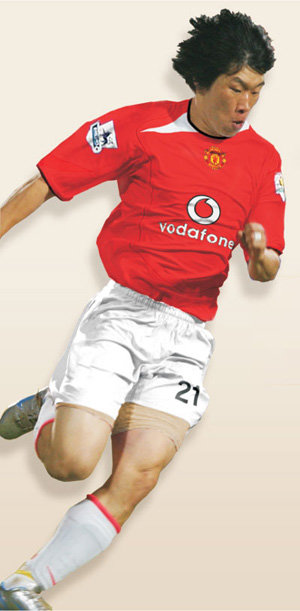 "Park to Orchestrate the World`s Best Soccer Club"-
Park Ji-sung (24), who became a Manchester United player and is expected to take the midfielder role, should compete with world-class stars in order to appear in the games.
Manchester United typically uses a 4-4-2 formation with emphasis on the midfield, using four midfielders arranged in a diamond-shaped position.
Park has developed unyielding physical strength while playing in the tough European League, which normally utilizes the ground fully, and is expected to be put either in the left or the bottom of the diamond.
Currently the left is taken by Ryan Giggs (32), while the bottom is played by Roy Keane (34). When the rumor of Park`s transfer first came out, the overall opinion was Park becoming the substitute or backup of the two stars.
Giggs started his Manchester United career in 1991, scoring 130 goals in 635 appearances, both of which are team records.
Keane has been considered the firm root of Manchester`s superb power, supporting the team`s waist and pressuring the opponents. He has scored 51 goals in 474 appearances.
The two players led the golden era of the club, and it is definitely possible that Park could immediately gain a tremendous reputation if he proves his ability and successfully supports the two stars.
Cristiano Ronaldo, who is taking the right edge of the diamond in the middle, is currently rumored to be moving to Real Madrid, giving Park a chance to grab the empty spot. The club obviously has plenty of options to use him.
Park will join the club in early July and is expected to participate in the franchise`s Far East Asian Tour to be held in Hong Kong, China, and Japan, which is scheduled to begin July 23.
Won-Hong Lee bluesky@donga.com