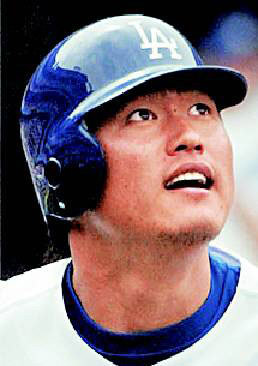 Choi Hee-seop of the L.A. Dodgers added a line to the history book of Major League Baseball.
In an away game against the Kansas City Royals, Choi lined a leadoff homer over the right field fence of the Kauffman Stadium in the first inning. It was his fourth consecutive game with a home run. He hit seven home runs in these games, tied for second for the most home runs over four games. Ralph Kiner (Pittsburgh Pirates) is the record holder with eight home runs in 1947, followed by Choi and Frank Howard (Washington Senators), who made seven homers in a 4-game span in 1968.
Choi`s seven hits in 16 at-bats in four games have all been homers, giving him a chance to challenge a record set by Mark McGwire (St. Louis Cardinals), who drove 11 consecutive hits all over the fence in the 2001 season. Albert Belle (Cleveland Indians) is ranked second with eight homers, set in 1995.
Choi, whose chance of appearing at bat was limited due to the team`s platoon system, has 13 home runs in 116 at-bats, averaging one home run per 12.4 at-bats. It is currently the No.3 record in the Major Leagues, with Tony Clark (Arizona Diamondbacks, 11.4 at-bats), and Alex Rodriguez (New York Yankees, 12 at-bats).
Choi, however, failed to make another hit during the game, finishing the game at 1-for-5. His batting average fell slightly down to .261 from .263. The Royals won a come-from-behind 3-2 victory.
Ichiro Suzuki of the Seattle Mariners made a hit to right field in the first inning against Philadelphia Phillies, making his 1,000th hit since his debut in the Major Leagues. It took five years and 696 games for him to achieve it, the third fastest in the Major Leagues, after Chuck Klein in 683 games (1933), and Lloyd Warner in 686 games (1932).
Sung-Kyu Kim kimsk@donga.com