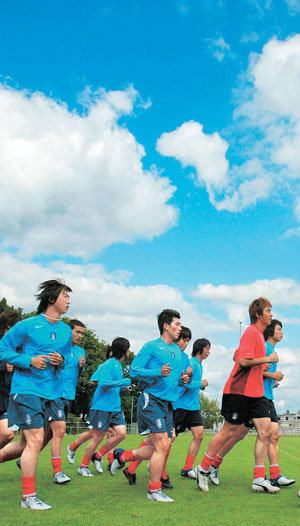 Its 1-2 defeat to Switzerland has left South Korea with no place to step back in its next match against Nigeria. South Korea now has two more matches remaining, one against Nigeria and the other against Brazil. In order to advance to the round of 16, South Korea has to finish with at least one win and one draw. Considering that Brazil is the defending champion, South Korea must beat Nigeria by all means.
Coach Park Sung-hwa plans to go with a "3-4-1-2" formation and place Park Joo-young in the "1" position in order to use him as an aggressive MF and striker as well. Park's role is to get every chance to shoot while controlling the level of offense and defense. The coach seems to expect Park's intuitive skills of pass and dribble to win the game.
"Nigerian players are physically larger than our players, which makes them slow. Therefore, using the space behind the Nigerian team would be more effective than to focus on physical struggles or securing the ball. That's why Park's role is critical," said Coach Park. His plan is to shake the Nigerian defense by passing to Kim Seung-yong (FC Seoul) and Shin Young-rok (Suwon) in the rear and letting them strike into an empty space when an opportunity comes. "We will win this game by focusing more on offense than on defense," said Coach Park.
Kim Jin-kyu, whose position is on the right side of the three-back defense line, will assist Park Joo-young from behind. Kim has a strong physique, good speed, and spirit, which make him the core of the defense. His mission is to defend against Solomon Okoronkwo and Isaac Promise from passing in behind the South Korean team. Kim's fantastic skills of overlapping runs and middle shooting and his aggressiveness in catching ball in free kicks or corner kicks are expected to be significant.
Since right wingback Ahn Tae-eun (Chosun University) has recovered from his injury, coach Park is planning to return Oh Jang-eun (Daegu) to the center to pair up with Baek Ji-hoon (FC Seoul). Baek Seung-min (Yonsei University) will be the left wingback as before. The defense line comprises Kim Jin-kyu, Lee Gang-jin (Tokyo Verdy), and Lee Yo-han.
Jong-Koo Yang yjongk@donga.com