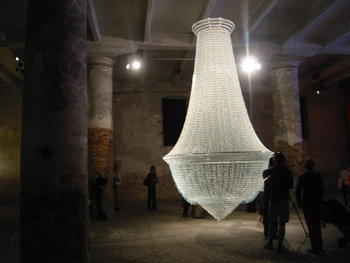 This year marks the 51st anniversary of the Venice Biennale. Showing the vast flow of the world's contemporary art, it is an international art festival that stands in the limelight for artists.
The exhibition is divided into a main display managed by the general superintendent and independent national displays held by respective countries. For the first time in history this year, Spanish-born curators Maria de Corral and Rosa Martinez were jointly appointed female supervisors, quickly becoming the talk of the town.
Maria de Corral oversaw the Italian sector in the Castello Park of the main exhibit under the theme, "The Experience of Art," and Rosa Martinez organized "Always a Little Further" at the Arsenale. Whereas last year's exhibit displayed a total of 300 artists' works, this year will be more concise and intensive, with 92 artists participating.
At the Italian exhibit, familiar artists such as Barbara Kruger, Antoni Tapies and Gabriel Orozco were on display, but the honorary international artist award went to German sculptor Thomas Scheibitz and rising painter Matias Weitzer.
If the Italian exhibit bathed in famous artists' pieces, the Arsenale became a space for the unique creative works of experimental and progressive artists. Above all, reflecting the general superintendents' gender, diverse feminist works were on display.
At the entrance lobby of the exhibit, French feminist Joana Vasconcelos hung a mammoth chandelier under the title, "Tampon."
In addition, Indian artist Subodh Gupta created kitchen utensils while Guatemalan artist Regina Jose Galindo transformed the shaving of a woman's body hair into a performance. A familiar Korean face, Kim Su-ja, had six clips of a video series called "Needle Woman."
Sparks flew as every national exhibit fought for the greatest honor, the Golden Lion. The United States' exhibit with celebrity painter Ed Ruscha and the British exhibit boasting art mogul Gilbert and George drew crowds. However, the French exhibit showing the towering installation sculpture of female artist Annette Messager was the final winner.
The Korean exhibit was a flurry of motion as, compared with the quiet and comfortable viewing of the works of individual artists of other national exhibits, the Korean exhibit had nearly 15 artists participating.
The fact that the "big hand" controls the world's contemporary art is not news, but this year's event also become a battleground for fierce lobbying, as advertising artists, museums, sponsors, and collectors flocked to endless parties to establish connections and cliques. Famous fashion designer group Prada hosted a promotion party in favor of their art foundation's protégé Mariko Mori (Japan), while the Guggenheim Museum threw a dinner party for their Chinese artists.
The Venice Biennale, which reflected the 21st Century international society's motto, "The Age of Cultural War," was also an eye-opener of reality, showing that national power determines the brand value of cultural identity.
Venice, Park Kyung-mi, president of the PKM Gallery