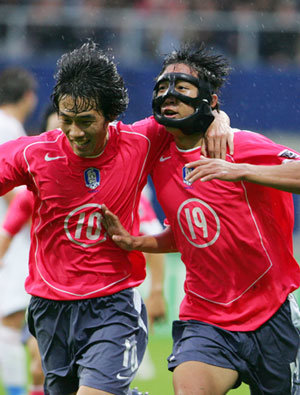 "There is still hope."
Korea lost its first match in the FIFA World Youth Championship Netherlands 2005. On June 13, the Korean National Team led by Coach Park Sung-hwa lost 1-2 against Switzerland who came from behind to win in the Group F preliminary round match.
At Emmen Stadium where the match was played, it rained as if to ignore the wishes of Korea's team, which was anxious about a wet match. With Park Joo-young and Shin Young-rok playing as strikers, Korea scored its first goal in the 25th minute of the first half when the Swiss goalkeeper bounced a shot from Baek Ji-hoon, and Shin kicked the ball with his right foot to score. However, Korea allowed long centering passes from the right wing and allowed goals to Antic in the 28th minute and Vonlanthen in the 33rd minute.
Korea tried to get back in the game, but a long range shot from Park Jon-jin in the 24th minute of the second half, and another from Baek Ji-hoon in the 31st minute, all missed the goal slightly, leaving frustration in their wake.
Nevertheless, Park Joo-young still shined. Park showed off an amazing dribble in the fourth minute of the second half, where he dribbled for about 60 meters from the Korean side to the Swiss side and shaking off four Swiss defenders. He easily cleared the ball from tall players, showing that he can play against European players, and had several sharp passes. The Swiss team's coach, Pierre-André Schürmann, said, "We had a good opening period but they came at us in the second half and we struggled to win the match at the end. In particular, number 10 (Park Joo-young) was very impressive."
On the same day, Brazil tied with Nigeria putting Korea at the bottom of Group F. The first and second-place teams of the six groups will advance to the next round along with the four third place teams with most points. Therefore, even if Korea places third in its group, it is possible to advance to the round of 16. If Korea does not allow many goals and beats either Nigeria or Brazil, its chances for the next round are sufficient.
PSV Eindhoven Skipper Guus Hiddink visited the stadium and watched the match between Korea and Switzerland until the end. He watched Park`s play which is his interest and talked with former coach Park Hang-seo of the Korean soccer team in the 2002 Korea-Japan World Cup, but the details of the conversation were not disclosed. Hiddink also commented on Park Ji-sung (PSV Eindhoven), who is pursuing a transfer to England's Manchester United, "If he goes to Manchester now, it is very likely that he will be a benchwarmer. It is wise not to go."
Jong-Koo Yang yjongk@donga.com