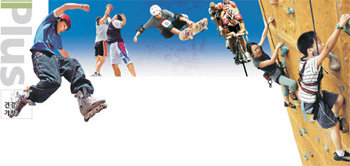 With the increased attention on staying healthy, the number of people playing sports is rapidly increasing.
In particular, there are "X-Games" enthusiasts that are into inline skating, mountain biking, and rock wall climbing. Intense sports such as soccer and basketball are also very popular.
Many people take adequate measures against fractures, bruises and bleeding, but they are not well aware of dental damage and injuries to the gums and jaw joint. However, if injuries to these areas are left neglected, one could lose their teeth permanently and even suffer the destruction of adjacent muscles and a brain concussion.
As Number of X-Games Enthusiasts Rises, Injuries to Facial Area Greatly Increase–
According to research conducted in the U.S., 10 to 39 percent of facial injuries were caused during sports. In the past, such injuries were usually restricted to professional players. Nevertheless, with the recent popularization of sports, the rate of facial injuries among common people is greatly increasing.
Specially, the number of male patients in their 20s and 30s is rising. According to a survey in Japan, out of patients with facial injuries caused during sports, 92 percent were male and only eight percent were female. In addition, teenagers amounted to 40.6 percent, and 20-somethings to 35.1 percent, which means that 75.7 percent of the total number of facial injury patients was young.
Wear a Mouth Guard and Treat Mouth Disorders First-
Boxers are hit hard in the face but they don't have that many injuries because they wear a mouthpiece. The mouthpiece minimizes the force of outer impacts and protects the teeth and gums.
Mouth guards are a type of mouthpiece. The U.S. and some countries oblige participants to wear a mouth guard during inline skating games or mountain biking activities. The mouth guard is also becoming popular and is being recommended for sports activity wear.
However, not everyone can wear a mouth guard. If one suffers from caries, jaw joint problems, a gum infection, or has an irregular row of teeth, he or she has to be treated first.
Ways to Use a Mouth Guard-
Many people only wear a mouth guard on their upper teeth where lots of injuries occur. But if one practices intense sports such as boxing and martial arts, one should wear a mouth guard for both the upper and lower teeth. There is no discomfort in talking or breathing while wearing one. Recently, there are also products that are transparent so one does not know at a glance whether one is being worn.
Its use is simple. You put one in your mouth before sports and take it off afterwards. Then wash it with a wet soft toothbrush and keep it in a closed container away from light.
Mouth guards are being sold in sports apparel stores. Since the teeth of individuals vary, if possible, it is best to have them custom-made at a dentist. Their prices vary from 100,000 up to 300,000 won.
If one bites hard on an inadequate mouth guard for a prolonged period, this might cause inflammation or twist the jaw joint. So it is advised to go to a hospital every six months and check if the mouth guard is fine.
(Written with the assistance of Korean Sports Dental Association Chairman Choi Dae-Gyun and Seoul Dental Association Public Affairs Director Park Young-cheol.)
Sang-Hoon Kim corekim@donga.com