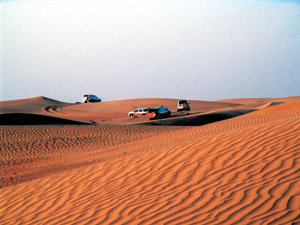 The geography of Dubai is desert. Its yearly average rainfall is less than 130mm. The climate however, is subtropical. Its proximity to the ocean brings humidity to the region.
Dune driving and dune dinner in the desert are must-try activities. The view of the dunes, which are sand hills made by sand carried by wind, stretched to the horizon was breathtakingly beautiful, like a piece of artwork.
We went to dunes in environmental protection zones in the Margham Desert, 35km away from Dubai in a four-wheel drive vehicle (a six-passenger car) to go dune driving. First, we had to let the air out of the tires. In order to go up the dunes, a higher level of tires' road-holding is needed.
We could see other vehicles ahead of us speeding across, with sand blowing behind them. The highest speed one can drive while in the dunes is 60km. Driving across the soft sand with a 370 horsepower V8 engine feels smooth, like riding a boat in a calm lake. However, riding up and down the hills feels exhilarating, like a roller coaster ride. This type of thrill is what makes dune driving so attractive.
During the tour, we also visited a camel farm and watched the sunset. The orange sun disappearing behind the copper dunes and the warm evening glow is an unforgettable scene. After the sunset, we enjoyed a dune dinner at a Bedouin-style campsite within the desert.
Desert camping has many attractions. You can ride camels or smoke a water pipe. Dinner is a buffet, with mutton, beef, chicken barbecue, and other traditional foods. Eating traditional Bedouin foods on a carpet in the middle of the desert under the starlit skies is an amazing experience that brings out Dubai's true beauty.
The last part of the tour is a belly dancing performance. Watching a dancer's voluptuous body making provocative belly dance movements makes the experience all the more enjoyable.
The highlight of the evening comes after the dance. The lights are suddenly extinguished, followed by silence and the dark twinkling night sky. Watching the night sky in the desert was even more beautiful than the night view from the Burj al-Arab Hotel. The beauty of nature never fails to astound us.
Desert Tour: Arabian Adventure (www.arabian-adventures.com). Hotel pick up everyday at 4:30 p.m.; six hours (including English-speaking guide). Cost: Roughly $80.
Seung-HaCho summer@donga.com