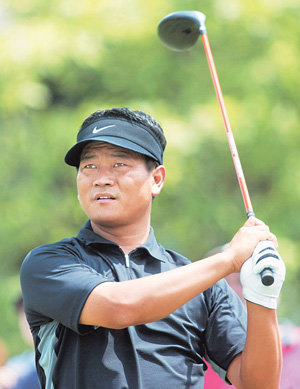 "Tank" Choi Kyung-ju (Nike Golf) placed in the top 10 for the second time this season, starting his drive to quench his thirst for his third career victory.
On June 6, the final round of the PGA Tour Memorial Tournament was played at the Muirfield Village GC (par 72), Dublin, Ohio, with a purse of $5.5 million.
Choi tied for eighth place (10-under-par 278) by hitting a 4-under-par 68 (six birdies and two bogeys) in the final round, and raised his earnings ranking to 62nd ($620,410). After winning two tournaments in 2002, he has not won in the past two seasons, and had a rough start this season when he changed his swing and golf club.
On the other hand, Tiger Woods (U.S.) could not take full advantage of Vijay Singh's (Fiji) missing the cut and failed to return to world's number one player status. If Woods had placed higher than third place, it would have been possible for him to reclaim his title, but he finished tied for third place (12-under-par 276).
Unknown Bart Bryant (U.S.) won the tournament with a 16-under-par 272 and savored his second career victory.
Young-SikAhn ysahn@donga.com