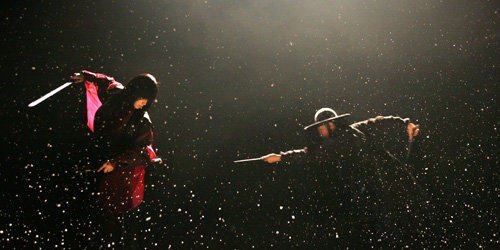 "I first met Dong-won and saw his sad eyes. And that was that," said director Lee Myung-se.
It didn't take long for actor Kang Dong-won (24) to be cast as the lead in Lee Myung-se's new film "Detective." After all, the character's name is supposed to be "Sad Eyes."
At the Seoul Studio Complex in Namyangju, Gyeonggi Province, on May 27, director Lee Myung-se was shooting the final scenes of his period film "Detective"—his first movie in six years since "Nowhere to Hide."
On the 500-pyong outdoor set colorfully decked out as a Joseon-era marketplace, "Sad Eyes" Kang Dong-won stood in a green-tinged black robe with a long sword slung at his side. Although he was 186cm tall and his wig seemed to cover his eyes completely, he looked "pretty." So much so that a nearby staff member exclaimed, "Oh dear, he's even prettier than the female lead, Ha Ji-won…"
Because his character is an assassin, Kang must rely on his eyes and body language, rather than on spoken lines, to express his emotions in many of his scenes, as the name "Sad Eyes" indicates. Known to be shy and reticent, Kang was just as withdrawing and reserved during the press conference that followed the shoot. He lingered over his "umm's" and "aah's" when questioned by the press, and his costar Ahn Seong-gi often came to his aid in answering their queries.
"This role required me to communicate and express my feelings with my fingertips. The dance and martial arts training I received prior to shooting helped enormously. It allowed my body to move to the rhythm that the director wanted, and I ended up finding my own rhythm as well," Kang said.
Ahn Seong-gi (53), who plays Chief of Police Ahn in the film, praised Kang by saying, "Although his laconic, unhurried ways can be a little frustrating in real life, Dong-won shone all the more in the film by 'speaking' with his eyes. It's deeply appealing."
Actress Ha Ji-won (26), who played a female detective of the Joseon period in the 2003 television series "Damo," again appears as a female detective, named Nam-sun. In this scene, she was surveying the streets in disguise, so she was wearing the clothes of a "kisaeng" (similar to the Japanese "geisha") and a hat to block out the sun. Her tanned face had a healthy sheen.
"Movies and TV dramas are separate things. This character was approached in a completely different way from Chae-ok, my character from 'Damo.' The thing is, the director even seems to have forgotten that I'm a woman, because he keeps telling me to jump off walls without a second thought," Ha said.
Even before shooting began, director Lee emphasized the importance of movement for his principal actors, saying, "Acting in this film is similar to doing a pantomime." Accordingly, Kang Dong-won and Ha Ji-won studied the tango and Sunmudo (a form of martial arts based on meditation) for three months starting in October 2004. It was hard going: training would begin at noon and continue until 2:00 a.m. the next morning.
Kang Dong-won has appeared in youth films like "True Romance" and comedies like "Don't Believe Her." He declared, "I'm happy to have met director Lee. I learned that shooting a film can be fun." Ha Ji-won echoed his sentiments, saying, "Lee told me that the harder you work, the more the audience appreciates it and loves you. That has really stayed with me."
"Detective"—which recounts a tale of love, conspiracy, and confrontation between Kang Dong-won, the right hand of a government official circulating counterfeit currency, and Ha Ji-won, a female detective investigating the case—wraps up principal photography in June. It opens in theaters September 2005.
Dong-YongMin mindy@donga.com