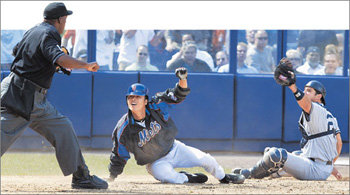 "Mr. Koo's revenge" has shocked Major League Baseball.
On May 22, the New York Mets' Koo Dae-sung avenged himself on the New York Yankees that backed Koo down at the Shea Stadium in New York.
Taking over the mound in the seventh inning with the Mets leading 2-0 with no out and a runner on a first base, Koo started his one-man show by striking out Tino Martinez and Jorge Posada swinging after the runner on first base, Alex Rodriguez was thrown out on a feint-ball play by Mets catcher, Mike Piazza.
Mets manager Willie Randolph let Koo pitch even after retiring the side because Koo's stuff was excellent.
However, nobody expected Koo to get a hit. Moreover, the New York Yankees' starting pitcher was Randy Johnson, who is currently one of the best left-handed pitchers in the majors.
Koo Dae-sung struck out looking in his first bat in a game against the Cincinnati Reds on May 17.
At the time, the ESPN ridiculed Koo's batting, saying, "Koo looks like he's six meters away from the plate," after replays showed Koo standing at the extreme edge of the batter's box away from the plate.
But, Koo was a totally different person this time around. Johnson's first ball was high at 146 km/h, and his second ball was an outside strike at 148 km/h.
Then Koo's bat, which looked like an ornament, stroked Johnson's third pitch, a 91 mph inside fastball for a double that fell in front of the fence, flying well over the head of the drawn in Yankees' centerfielder, Bernie Williams.
But, it was only a beginning of his one-man offensive show. Koo reached third-base when Jose Reyes bunted a ball in front of a pitcher but, seeing that the path to home plate was clear, Koo made a daring run to the plate.
Koo made a head-first-slide and was called safe. Although slow motion replays showed that the Yankees' catcher Posada looked like he had tagged Koo before he touched home, the home plate umpire called Koo safe.
In the eighth inning, Koo was replaced after striking out Yankee rookie second baseman Robinson Cano.
The Mets won the game, 4-0, which earned Koo his fifth hold (a statistic for effective middle relief pitching appearances) and lowered his ERA to 3.37.
The New York Mets home page said that "the Koooooo" chant that rose from the stands may have been audible all the way to Koo's country, Korea, and Mets general manager, Jim Duquette, lauded Koo by saying, "Koo is our secret lefty weapon." Koo's teammate, third baseman David Wright, also praised Koo, saying, "Koo made baseball history today."
Hwan Soo Zang zangpabo@donga.com