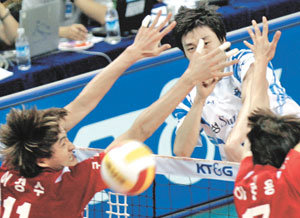 The Samsung Blue Fangs had the first laugh.
On April 28, at the first 2005 KT&G Pro Volleyball V-League playoff between Samsung Fire and LG Insurance (best of three matches) held at the Park Chung-hee Stadiumm in Gumi, the Samsung Blue Fangs crushed the LG Greaters in three straight sets (25-21 28-26 25-11), thanks to a strong performance led by "World Star" Kim Se Jin (22 points, four blocks).
Samsung needs just one more win to make it to the championship finals. The second playoff match is scheduled for April 30, at the Daejeon Chungmu Stadium.
LG, whose weaknesses in serving and receiving came to the fore as even its main gun Lee Gyung-su (11 points) failed to rise to the occasion, was no match against Samsung's watertight team. Samsung filled its lineup with such veterans as the "Brown Bomber" Shin Jin-sik (eight points), the newly-recovered Suk Jin-wook, and Kim Se-jin, with Kim Sang-woo playing center, and hit LG fiercely from the get-go.
In the first set, with the score tied 9-9, Samsung pulled ahead by scoring four consecutive points due to Lee Gyung-su's error, Shin Sun-ho's speed attack, and Kim Se-jin's blocking, then easily took the set after LG made another mistake.
The watershed moment came in the second set. LG diversified its former Lee Gyun-su-centric offense by utilizing the speed attacks of the Goo Joon-hwe, Ha Hyun-yong duo (over six points), and led 23-22 over Samsung. But Lee Gyung-su's attacks kept dropping far outside the lines to put LG on the wrong side of the set-point play.
LG pushed the situation to a deuce thanks to a timely spike by veteran Kim Sung-chae (11 points), but Shin Jin-sik broke through to turn things around. Lee Gyung-su brought the score back to a tie, at 25-25, with a strong attack. His subsequent serve error was saved by Kim Sung-chae's power hit, but in the end Samsung prevailed with two straight points by Kim Se-jin.
With LG's concentration visibly flagging in the third set, Samsung easily came out on top.
Jong-Koo Yang yjongk@donga.com