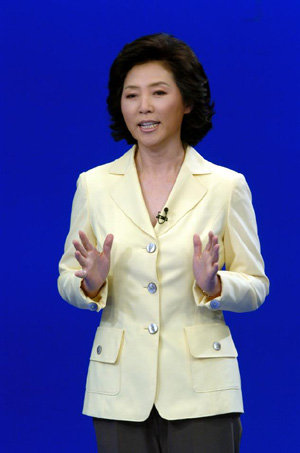 In its new programming schedule for the spring season starting May 2, KBS has decided to focus on playing a role as a public broadcaster, expanding HDTV programs, and promoting the company's image instead of sticking to program ratings, according to Jang Yoon-taek, head director of programming, in a press meeting held in the KBS headquarters in Yeouido on April 27. "Basically, we tried not to be influenced by program ratings and made a few changes by expanding cultural programs," he added.
One of its highly focused programs is KBS 1's "HD History Special" (airing at 10:00 p.m. every Friday,) and KBS 2's "HDTV Novel" (airing at 11:15 p.m. every Sunday).
"HD History Special" is an advanced version of "History Special," which ended in 2003. The new version will deal the Korean history chronologically more and historical events less. In its premier on May 6, "First People on the Korean Peninsula" will be aired and a total of 65 titles have been prepared, ranging from the prehistoric period to the pre- independence period. Actress Ko Doo-sim will host the program.
"HD TV Novel" is another project in which KBS has put much effort. "TV Novel," first aired in 1980, has changed its names several times, including "TV Literary" in 1991 and "New TV Novel" in 1996. For the past 15 years, the program has been intermittently aired, and now it is about to reborn as an HD version.
"HD TV Novel" is planning to show a total of 100 stories by airing 10 stories per year for the next decade. Following the first literary work, "A Rain Fall" by Hwang Soon-won on May 8, four works will be aired in May and another four more in November. "I would like to make high quality dramas that are not swayed by program ratings," said Lee Nok-young, the team manager of this project.
Other major new programs include "Neighboring Project-Rainbow," (airing at 7:00 p.m. every Friday, KBS 2) a variety program to promote goodwill among neighbors through joint projects, "Nation's Best Shooting Star," (airing at 10:00 a.m. every Sunday, KBS 2) an entertainment show of a soccer game between the team of six entertainers and an amateur team.
Meanwhile, there are 19 discontinued programs, including "Modern History of People" (airing at 10:00 p.m. every Friday, KBS 1), "KBS Art Theater," (airing at 12:10 a.m. every Sunday, KBS 1), and "Open Investigation-Missing" (airing at 10:00 p.m. every Saturday, KBS 2).
bsism@donga.com