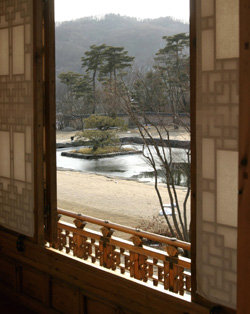 An exhibition that combines a spring excursion with an appreciation of the finer arts is hitting the road. Art museums and galleries usually close at 6:00 p.m., but several places have deferred their closing times to later in the evening, allowing nighttime visitors.
The Seoul Museum of Art's "Art in Bloom"-
The Seoul Museum of Art will hold its "Art in Bloom" Exhibition on Friday, April 22 at 8:00 p.m. Although nights are still chilly with spring winds, the Seoul Museum of Art, located in Jung-gu, Seosomun-dong, Seoul, is brimming over with the laughter of guests gathered in bunches. Guests have flocked to the museum after the museum extended its hours to 10:00 p.m. on weekdays for "Art in Bloom," which runs until May 22. Mondays are days off, and on weekends, Sundays, and national holidays, the museum opens from 10:00 a.m. to 7:00 p.m.
From the museum entrance to the garden and plaza, these areas have transformed into display space. At the doorway, a jumbo, seven-meter-tall bamboo doll greets visitors, and installed next to the foyer are magnified human legs and shoes. The result is a feeling of moving art pieces which tail the guests. Next in line are creative pieces that use the eyes, ears, nose, mouth, and other sensory organs and teem with bizarreness and humor.
There are also hands-on programs that visitors can participate in. At the "Milk Carton Girl's House," located in the plaza in front of the main entrance, not only do visitors glance at murals that artists drew, but they can also craft postcards out of prepared materials. After the exhibition, the museum posts them to the desired address. (02-2124-8912)
Ho-Am Art Museum's "Lotus Exhibition"-
At the Ho-Am Art Museum, located in Yong-in, Gyeonggi, along with the Ho-Am Art Museum Cherry Blossom Festival, the ninth lotus-themed collection exhibit is being held. The opening hours for the traditional heewon garden have been prolonged from 10:00 a.m. to 9:00 p.m. until April 28. The lotus exhibit lasts until October 16 (Mondays are holidays).
The lotus, while being a symbol of realization and nirvana in Buddhist art, also represents the loftiness of a gentleman or denotes prosperity, fertility, and longevity, and was used as various pottery and painting designs. In the exhibit, 74 pieces, including National Treasure No. 128: "Gilt-bronze standing Avalokitesvara at Samyang-dong"; No. 234 : "Kamjieuni Myobubyeonhwakyung"; Treasure No. 1230: "White Porcelain Bowl with Lotus Design"; Kyeumjae Jung-sun and Danwon Kim Hong-do; Owon Jang Seung-up's paintings and civilian pieces, and other several Buddhist statues, ceramic ware, and trinkets will be shown. (031-320-1801~2)
The Gana Art Center's "Open Art for Kids' Exhibition"-
The Gana Art Center in Pyeongchangdong, Seoul, is gearing up for its "Open Art for Kids" exhibition aimed at children, to be held on April 29 to May 22. At the gallery entrance, monumental mobile installments like "Space Automouse" among other works using the theme of play toys are displayed, and the second exhibition shows pieces suggestive of flora and fauna to enhance children's observational skills. Also on display is a children's playground with seesaws and other equipment which fosters imagination and creativity in toddlers. (02-720-1020)
The Samsung Children's Museum's 10th Anniversary Event-
The Samsung Children's Museum, located in Jamsildong, Songpagu, Seoul, hits its 10th anniversary on May 5 and is holding an outdoorsy "Eolsoo Samulnori Concert" consisting of gongs and drums everyday at 11:00 a.m. and 4:00 p.m. to celebrate. It will also hold a rice cake making and eating event, "Deong Deo-kung Rice Cake Pounding," at noon and 3:00 p.m. as part of its special anniversary events. (02-2143-3600)
Mun-Myung Huh angelhuh@donga.com