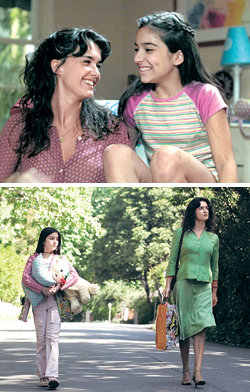 The movie, "Spanglish," shows how hard it is to communicate through two languages, English and Spanish. This is illustrated through the film's portrayal of a family in which words that are intended to convey one's ideas become swords to hurt other people. The all-English-speaking family members in the movie habitually converse in incomprehensible words, but convey their sincere thoughts and emotions to the Spanish-speaking maid despite their mutual language barrier.
A young Mexican housewife Flor (Paz Vega), deserted by her husband, illegally crosses into America to find a better future for her six-year-old daughter. Flor works in a Latin district of L.A., where Spanish is all she needs to speak day and night. As her daughter enters her teens, Flor searches for jobs that will allow her to work only during the day, and through her cousin's introduction, Flor gets work as a housemaid to a chef named John Clasky (Adam Sandler). John lives with his wife Debora (Tea Leoni), an overweight daughter Bernice, who is in her early teens, a son named George, who shows signs of mental weakness, and a near alcoholic mother-in-law who used to be a jazz singer. Deborah who does not care to listen to others but only speaks her own mind, and treats her children not with love but with paranoia, stressing the expertise she picked up in parenting manuals. In this "communication-challenged" family, Flor fills in the missing parts between words.
Deborah purposely buys Bernice new clothes that are too small for her to wear without losing weight.
"The doctor said it's good to motivate your child [to lose weight.]"
In fact, Flor secretly goes into Bernice's room at night, takes her clothing, and pulls the seams open to repair them to fit Bernice. No one in John's family tells Deborah that clothes are meant to fit one's body and not the other way around.
John decides he wants "three and a third stars" out of the full score of four when a restaurant critic from the LA Times comes to his restaurant to review it. He thinks that three and a third stars would preserve the prestige of the restaurant while encouraging food-lovers to come visit it casually at the same time. But when he gets four stars in the newspaper review, he shouts, "Fuck you." True to John's fears, his restaurant is promptly booked up for four months with "high-class" customers.
The theme of the movie is the problem of communication, along with another message: the affection and pride of a mother for her daughter. Deborah, who shows more interest in cute and smart Christina than her fat daughter Bernice, gets a scholarship for Christina to attend a private school. However, Flor thinks her role as mother is undermined, and is not happy about it. Tension arises between Christina, who wants to attend the private school, and Flor.
Director James L. Brooks depicted a compulsive middle-aged man looking for love in the comedy movie titled, "As Good As It Gets" (1997). He has followed it up with this sleek new comedy. It does not incite bursts of laughter, but it resonates for a long time. Regrettably, the two themes—the lack of genuine communication and conflict between mother and daughter—do not convincingly connect with each other, which the director would likely mull over for a long time as well.
The biggest achievement in the movie is to have scouted Paz Vega, who played the role of Flor. She is as sexy and pure-looking as Penélope Cruz, while as fragile and poignant as Demi Moor in "Ghost." In the movie, she works very well in the role of a Latin woman with passion and softness as well as a young mother taking care of her daughter. The English title is "Spanglish," a combination of Spanish and English, referring to the English Hispanics use with their Spanish accent. The movie will be released on April 22.
For ages 12 and above.
mindy@donga.com