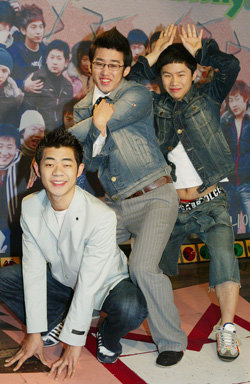 "Hoizza!" (Korean comic version of a strong "wah!" sound) We are celebrities now!" said Kim Gi-uk.
"Zzupuck! Zzupuck! (Another version) Our rivals are all wiped out, sir!" said Yang Se-hyung.
"Kyack! (Korean comic version of "Oh my goodness!") Everybody is watching us only," said Park Sang-cheol.
Every Thursday night, we can hear deranged noises from somewhere around midnight. They are the sounds made by comedians from the group titled, "Whasang High School" (Fools' High School) from the famous TV comedy show, "Woochatsa" (meaning: those who pursue laughing). They are Kim Gi-uk (22), Park Sang-cheol (22) and Yang Se-hyung (20), yelling "Hoizza," "Zzypuck," and "Kyack."
Three months after their stage debut on January 20, when they were eager to change the world with their powerful comedy while wearing school uniforms, they have now made their group, "Whasang High School," into the title section of the show, "Woochatsa." In addition, there are now more than 50 online fan clubs dedicated to "Whasang High School," and even clubs that study their kung fu techniques are gaining popularity.
"Not long ago, the three of us went shopping at the Dongdaemun shopping mall district, and we had to immediately hide ourselves in the emergency stairs from crowds of people running to us, shouting, "They are from Whasang High School." We can't even go shopping like we used to," said Kim Gi-uk.
"Not long ago, the three of us shot a TV commercial for the first time. What's more, Gi-uk even shot one for Bibim-myun, spicy noodle with vegetables. He was chosen as "the bullied man of the month" that we made up to celebrate. 'Hey! You shouldn't have done it alone,' we said," according to Yang Se-hyung.
The group "Whasang High School" features unique kung fu techniques created by the chief of the kung fu club, Kim Ki-uk, and his second aide, Park Sang-cheol, playing the role of his left arm, and his first aide, Yang Se-hyung, playing the role of his right arm. In the show, they fight against the judo club in a bid to become "the number one fighters" at the school. However, even with their new techniques, using force coming from the palms and "collective force using the triple units of body," the head of the judo club defeats them all. There is a message from this that the three comedians of Whasang High School give to the audience. "We used satire here, based on the Korean old saying: 'A frog in the well knows nothing of the great ocean.' It's a commentary on how many people there are who arrogantly boast all the time, but who are actually nothing," said Park Sang-cheol.
They go to the zoo whenever time permits, and visit online communities about animals where they can hear animal sounds. Based on such in-depth observation, they have developed routines that use the sounds and movements of animals like frogs and doves.
"So far, we have introduced 36 kung fu techniques, and we are determined to develop more based on research into some 16,000 species of animals on the planet," said Kim Gi-uk.
"Come to think of it, wouldn't there be more than a hundred million techniques if we considered the movements of the body parts of even a single locust? We could have "locust wing technique" and "locust beard." That would let us do this "Kyack!" thing even when we turn 60," said Park Sang-cheol.
The trio met for the first time when they performed a routine titled, "The choir of spiritual guides," on stage in Daehakno, Seoul on April 25 last year. Back then, they were performing a somewhat slow and rigid comedy show. But nine months of research and practice later, today's hit, "Whasang High School," became a reality.
They were all in agreement that three months of acting in "Whasang High School" had given them the inspiration to create their "quasi-kung fu men" characters because they had to play the roles of kung fu club members themselves.
bsism@donga.com