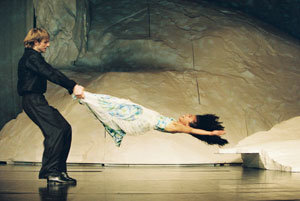 The German dance choreographer Pina Bausch (65) has created another masterpiece.
The preview, "Neues Stück 2005," held at Wuppertal, Germany on April 17 (local time), was a unique showcase integrating dance and theatre. Receiving a standing ovation from the spectators that filled the 740 seats at the Schauspielhaus in Wuppertal, the piece was of special interest to Korean fans because the performance featured Korea as its main motif.
With the rise of the curtains, two male dancers put their heads together and started whistling back and forth. It was a scene reminiscent of the main theme of relationships and communication between people.
Running for an hour and 10 minutes each for parts one and two, the performance was filled with images of today's Korea. The movements representing urbanites buried in a metropolis and salary men exhausted by busy run-of-the-mill daily routines brought to mind nouns such as depression and ennui. Female dancers wearing aprons that shower water over the male dancers reflected the familiar scenes of traditional Korea. The scene where the performers covered the male dancer donning only a red piece of underwear with cabbage leaves resembled the kimchi-making act, drawing laughter from the spectators.
The performance, which remains untitled, is Bausch's 13th performance of her "World City-Country Series," that has been ongoing since 1986. Bausch and her troops visited Korea late last year, transmitting their feelings after observing the city, country, palaces, and the DMZ, into a dance form.
Along with background music with the motif of traditional Gayageum music and samulnori, Kim Min-gi's "Autumn Letter" and Kim Dae-hyun's "Lullaby" were integrated flawlessly with the dance. George Winchelmann, who has seen Bausch's performances 44 times, said that "this was the best Bausch performance," and that "the music is especially notable."
The 16 dancers did not lose their pace even in scenes requiring a sudden change from dramatic gestures and leaps across the stage to sudden halts. Kim Na-young, the troupe's only Korean, performed in one of the lead roles.
Produced jointly by the LG Art Center, Pina Bausch Wuppertal Tanztheatre, and Goethe Institute (German Cultural Center in Korea), the performance will undergo adjusting and fine-tuning, after which it will hold an initial performance at the LG Art Center located at Yeoksam-dong, Seoul on June 22 to 26, and will depart for a global tour after the initial showing.