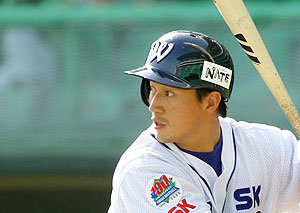 "Cannon Hitter" Kim Jae-hyun, who switched to the SK team this season, is currently in top condition.
Kim Jae-hyun went 2-for-5 with two hits, a walk and an RBI against the LG Twins on April 12 to lead the team to a 10-5 victory. Kim Jae-hyun played for the LG team for 11 years since his debut in 1994. Having acquired FA status at the end of last season, he signed with SK for 2.07 billion won over four years.
In a post-game interview, Kim Jae-hyun said, "I did not feel anything, only that it was slightly awkward to be playing against my former teammates."
Kim Jae-hyun reached his peak in 2002 with a batting average of 0.334, 99 hits, and 16 home runs, but has been declining since, lowering his batting average to 0.308 in 2003 and 0.300 in 2004. In 2003 in particular, he was only able to play in 50 games, less than half of the entire season, due to pelvic and knee injuries that eventually caused the "memorandum incident" (when LG forced Kim to write a note promising to take total responsibility for any further injuries).
As of now, Kim Jae-hyun is batting 0.387 (12 hits in 31 at-bats), with five runs and nine RBI in seven games. He hit a come-from-behind three-run home run on April 3 in the first game of the season against Hyundai, and made a deep impression on the SK fans with another three-run home run that made way for a victory over Hanwha on April 10. He is also proving to be a top clutch-hitter, having a batting average of 0.476 with runners on base.
Kim Jae-hyun is choking up on the bat from this season on, which he says is to "revive the determination held as a rookie in 1994."
By any means, Kim Jae-hyun's bat may not die this season.
Sung-Kyu Kim kimsk@donga.com