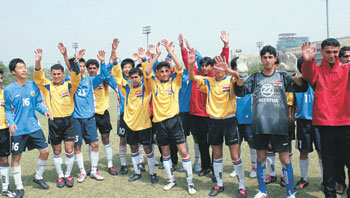 "Dae~han-min-guk(the Republic of Korea)." "Bro, bro, bro(meaning win)."
High school students from Korea and Iraq became united as one through soccer. On April 12, a friendship match between Jung-kyung High School and selected high school players in Arbil, Iraq, was held at the National Football Center in Paju, Gyeonggi province. The game was jointly hosted by Dong-A Ilbo and the Korea Football Association.
As Iraqi players approached the stands, the cheering squad of 400 from Jung-kyung High School shouted for joy. They gave national flags to the cheering squad, while the cheering squad gave a rose to each Iraqi player in return.
After a whistle blow, the cheering squad shouted slogans for Korea and Iraq alternatively.
Soccer was a medium for peace and friendship. The front and back of the Iraqi players' uniforms had the message, "Korea loves Iraq," a sign of appreciation for the Zaytun Unit dispatched from Korea to Iraq. Players from both teams extended a hand to raise the other team's player whenever one fell down. They also did not forget to make a "sorry" gesture when they committed a foul.
They could not communicate in language but through soccer.
The game was tight. Handlin Side of Iraq scored the first goal 25 minutes into the first half. But after Bae Won-ho scored a goal right before the end of the first half, the friendly match ended in tie, 1-1. After the match, player from both teams walked arm in arm to the stands to thank the cheering squad, and posed for photos in groups of three and four.
Side said with joy, "I am very delighted to have scored the first goal, but even more delighted that the game ended in a tie after the Korean team also scored. It is the first time that I felt great after losing a goal. We are friends." Kwon Sun-gil, captain of the Jung-kyung high school team, said, "We were nervous at first because we have different skin color and did not know the Iraqi team's ability. But as time went by, we became relaxed and felt like playing with close friends. It was a memorable game in my life."
Choi Un-bum, coach of Jung-kyung High School team, assessed, "We could not feel the characteristic power and speed of Iraqi soccer probably because they travelled a long distance. Nevertheless, it was an impressive match because the Iraqi team has many players with excellent individual skills."
Abdul Kadir Kdir, coach of the Iraqi team, said, "The Korean team players played great. We are satisfied with the fact that we played an even game. Korea was a soccer power as I had expected."
Soon-Il Kwon Jong-Koo Yang stt77@donga.com yjongk@donga.com