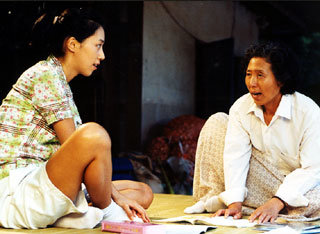 The movie "Mother" is about an aged mother, starring Go Du-sim, the leading mother figure of South Korea, walking 80km to attend her youngest daughter's wedding ceremony. By now, the audience about to enter the movie theater to watch the movie will be prepared to pour streams of tears. However, "Mother," opening Thursday, takes an unexpected turn.
From the beginning, it seems that director Gu Sung-joo (producer of the movie, "He asked whether I know about Gita" in 1997) did not have any intentions of making the audience burst into tears. The movie is not about the mother arriving at the wedding after going through all sorts of hardships and privations, but it is about the warmth that brought changes between the mother and the family as they took a journey down the road.
On the road, the older brother (Sohn Byung-ho) and youngest brother (Kim Yoo-seok) reconcile as they accompany their mother, and the mother is able to settle her pain when she finally meets her daughter, who has become a Buddhist nun.
The problem lies in the dubious way the director worked, wondering whether to make the audience burst into tears or whether to make it into an artistic accomplishment.
The movie also gives out scents of surrealism as if the aged mother's journey is the road to heaven by unexpectedly introducing a man acting as a scarecrow and an elderly band playing obscure music on the screen and through showing moments of the mother having friendly conversations with the flowers along the road.
However, at the end, the director tries to bring the audience into tears when the mother gives the daughter the first and the last letter at her wedding, going back to the traditional "law of tears" strategy. During this process, the audience has to decide whether to observe the life of the mother from afar, or suffer as one puts himself or herself in the mother's shoe.
The fact that "Mother" brings the middle-aged actors back on screen should be highly praised. One has to wonder what kind of footprints the movie will leave in a society in which "funny or sad" movies only tend to survive. All ages admitted.
Seung-Jae Lee sjda@donga.com