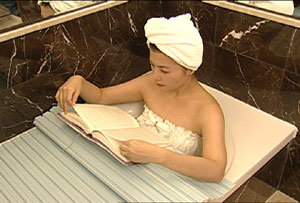 A medical cultural TV program on KBS1, "The Secrets of Life, Death, Aging and Illnesses," (airing on Tuesdays 10:00 p.m.) has prepared a special for its 100th presentation on April 5.
This program, which went on air for the first time in October 29, 2002, had over 2,500 viewers participate in experiments and 880 doctors appear on the show.
On April 5, a collection of highlights from various experiments introduced in previous episodes will be aired. It will re-broadcast scenes from experiments like the one on the cholesterol levels of mice fed on fat, the liver examinations performed on 100 shopkeepers working at street markets, and the piece on the reactions of hypochondriac mice.
Also, the program will revisit the people who came on the show to check on their present conditions. They will pay a special visit to the baseball commentator Mr. Ha Il-seong, who declared his determination to quit smoking after collapsing from cardiac arrest (episode 3), Mr. Lee Sang-do, a "walk-a-holic" who maintained his health at the age of 102 (episode 38), and Mr. Choi Myeong-oh, who cured his impotence problem with garlic (episode 24).
This show was the first cultural program o be exported overseas to Taiwan. It was broadcasted through Taiwan TV on November 27, 2004, and the MC of the program, announcer Oh Yu-kyeong, will meet with the producers of Taiwan TV to see how the program is received by local audiences.
The segment on the "half bath" enjoyed particular interest in Taiwan. After the segment was aired last December in Taiwan, dozens of requests for reruns were posted by Netizens on the viewers' bulletin board on the Taiwan TV website.
Producer Lee Gwang-ju said, "We are planning to focus on broadcasting special series, like the one in progress right now as the KBS annual special on 'Battling Diabetes,' rather than having short fragmented contents on the show."
bsism@donga.com