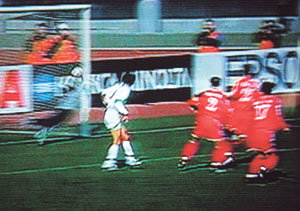 North Korea may have to surrender its dream of playing in the World Cup finals for the first time in 40 years.
North Korea lost 0-2 to Iran at the Group B qualifiers for the 2006 FIFA World Cup Germany held at Pyongyang's Kim Il Sung Stadium on March 30.
With three losses, North Korea is now in last place in Group B. Iran is the leader with two wins and one tie (seven points).
Even if it wins all of the remaining three games, North Korea is now unlikely to gain direct entry to the World Cup finals, which is given to the top two teams in each group, since the team will still have only nine points.
Never having played in the World Cup finals since the team made the quarterfinals in the 1966 FIFA World Cup England, North Korea enlisted Ahn Young Hak (Nagoya Grampus), who is playing in Japan's J-League, before the 2006 World Cup Germany qualifiers, but the problem lies in the team's poor defense.
Iran is 20th in the FIFA ranking and North Korea is 91st. Having lost to Bahrain in the March 25 match, North Korea played a cautious game against stronghold Iran, but failed to catch up in terms of expertise and operation against its opponent who was fully armed with players including stars from Germany's Bundesliga teams.
The North Korean team, in which Kim Young Soo and Choi Chul Man are the top two players, threatened Iran's goal at 12 minutes in the first half and later aimed for the goal with Kim Chul Ho's shot 27 minutes into the game.
However, Iran, armed with shooters Mehdi Mahdavikia, Ali Karimi and Vahid Hashemian, turned the tables in the 22nd minute with Zandi's powerful left-foot shoot and later scored the first goal in the 33rd minute. A free-kick chance lead to this goal when the ball kicked by Mahdavikia went over the North Korean goalkeeper's head and directly into the goal.
With the full support of around 70,000 home fans, North Korea played an equal game in the first half, having 5-6 shooting chances each, and also switched three players and went all-in in the second half, but succumbed to its opponent 35 minutes into the second half by allowing a second goal to Javad Nekounam.
Soon-Il Kwon stt77@donga.com