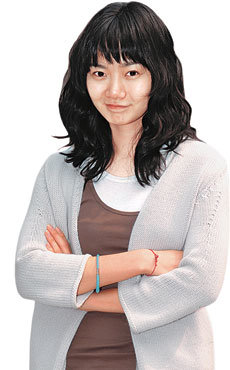 Actress Bae Doo-na (26) is back on the TV screen in the MBC Omnibus Drama, "Beating Heart" (airing at 7:55 p.m. weekends). In it, she plays the main character, "Bae Doo-na." Her last appearance was in the KBS mini series "Rosemary" a year and four months ago. She is so into the drama after a long break, she said.
"It took one minute to decide when they offered it to me. Why would I refuse it? Besides, the drama is about a family. I thought shooting it with Bae Jong-ok and Kim Chang-wan would be very enjoyable," said Bae Doo-na.
In the first episode, titled "Love," she plays the 29 year-old divorced sister of Bae Jong-ok. She is Kim Chang-wan's sister-in-law. As the story unfolds, she falls into a love triangle between Kang Seong-jae (played by Kim Dong-wan), who works for a large corporation, and Jeong Nam-su (played by Shin Sung-Woo), who received a doctoral degree at a prestigious university. They both fall in love with Bae Doo-na.
"I played the unmarried mother in the MBC mini series "Lady of Dignity." People are worried about me playing a divorced character this time. But, I don't think about that, because that is not important. What matters most is how well I characterize a character as real as "Bae Doo-na."
"Beating Heart" is an experimental omnibus drama made by MBC. The drama is composed of six episodes with the title: "When did you feel your heart beating the hardest?" Conveying answers, such as love, sorrow and joy, six teams of six producers and six writers participated in making this drama. Each team made one episode consisting of two parts.
Bae Doo-na confessed the most nervous moment of her life was last summer.
"Last July, I first acted on the stage in the play, "Sunday Seoul." I felt my heart storming out of my body. A mistake on a stage is so noticeable that I felt like being naked in front of the crowd. Every time I made a mistake, I found myself respecting my mother (Kim Hwa-young, a stage actress) more and more."
Bae Doo-na made her debut at the age of 19 in the KBS mini series "School" in 1999. Now, she is in her mid-twenties. She has grown enough to recognize changes in her life. But there is one thing that has never changed: her family.
"My mother tells me everyday that I am her other self. My family is the same thing for me. My family is the only thing that I've always believed in," she said.
bsism@donga.com