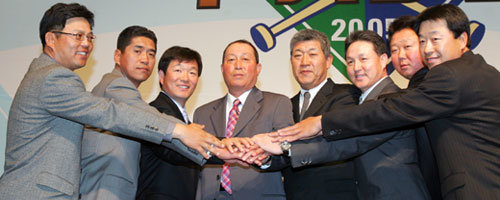 The new Korean baseball season begins in three days. On every team, there is a single player who becomes an important variable in achieving victory. Who are the "key players" this year for each ball club?
Hyundai— Pitcher Michael Callaway (30, photo). He has to fill the void left by last year's main contributors to team victory, Shim Jung-soo and Park Jin-man. Callaway started twice during the exhibition league, putting up some impressive numbers with one win and an ERA of just 1.00. Along with pinpoint precision in locating the ball, he commands various outstanding "weapons," including a slider and a curve ball.
Samsung— Manager Sun Dong-yeol (42). Although he is no longer a player, in his debut year as a manager, Sun is the focus of much attention as the greatest star of Korean professional baseball helming a team that is judged to be the most stable power in the upcoming season. Sun himself has taken the modest tack by saying, "Winning the league will be difficult."
Doosan— "Super rookie" pitcher Kim Myeong-je (18, photo), who signed on with the Bears for the season's highest price tag of 600 million won. In the exhibition games, he demonstrated a very un-rookie-like command of both the ball and the game's flow, recording an ERA of 1.80 to cement his spot as the number four starter.
Kia— Lee Jong-beom (35, photo), whose extraordinary performance during the exhibition league put last year's slump permanently to bed. Despite ending up with a forgettable record of 17 home runs, a .260 batting average, and 52 RBIs, Lee slugged his way to an eye-opening .458 batting average during the exhibition league. Lee is the reason why Kia is being mentioned as a candidate for league champions this season.
SK— Pitcher Uhm Jung-wook (23, photo), who boasts the best fastball in Korea. Although he won't be able to take the mound until late April due to injury, his recovery will have an integral impact on the character of the team as a whole. His fastball clocks in at as high as 160km/h, but his control is an issue. Fortunately, he demonstrated razor-sharp precision during training in Okinawa.
LG— Ruben Mateo (27, photo). Mateo is like sweet rain for a team that suffered considerably from a lack of big guns during the exhibition league with just four home runs, a combined batting average of .303, and six RBIs. Along with fellow LG player Lou Collier, who put up two homers and a .361 BA in his exhibition at-bats, Mateo will lead the team's firepower this season.
Hanhwa— Lee Bum-ho (24, photo), whose right-handed bat was ripe and juicy during the exhibition league. He enjoyed an 11-game hitting streak, with four homers, 11 RBIs, and a .450 batting average. He is sure to fill out the Hanhwa super trio alongside Kim Tae-kyun and Mark Smith.
Lotte— No Jang-jin (31, photo). The "Lotte tornado" of the exhibition league originated on the mound, and No stands at the eye of the storm. In six and one-third innings over six games, he silenced the opposing team's bats with a 0.00 ERA and four saves.
Sung-Kyu Kim kimsk@donga.com