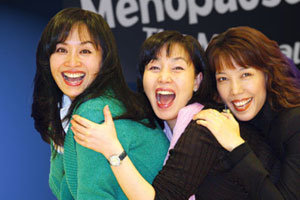 Menopause, on its freedom
-You are not yet…?
Three women said they are not in menopause, yet started to talk frankly about their signs of menopause.
"I recently skipped my period." "My cycle becomes shorter." "Menstrual flow is lighter…"
-When many women experience menopause, they think it is the end of their lives as women. As actresses, isn't there a possibility for the play to damage your image?
"Thanks to my experience of acting in 'Vagina Monologue,' I came to know the 'taste' of feminist plays. So, I wanted to take part in this play, a performance that depicts stories about middle-aged women open-heartedly. Frankly, I don't have an elegant image to lose. (laughter)" (Lee Kyung-mi)
"Actually, 'Menopause' came to me a bit early (laughter). As an actress myself, I feel I took the role of menopausal woman too early. But since that is the physical change every woman goes through, I feel rather close to it." (Chun Soo-kyung)
"Why do people feel gloomy about menopause? I am concerned about being pregnant whenever I have sex with my husband. But once I become menopausal, I will enjoy sex and feel free from such worries." (Park Hae-mi)
"Menopause," on its joy
Mamma Mia was the most popular musical (200,000 people enjoyed the play) of last year, and it finished its tour in Daegu recently, achieving the longest tour record outside of Seoul (six weeks). At a time when most performances are for the younger generation, the trio took firm hold as heroines in their 40s since starring in Mamma Mia.
Rumors have it that the producers put great effort in casting all three stars. "Because the play will be performed at a small theater, we cannot expect much money, but we were attracted by the fact that the story pleasantly depicts menopause, an unusual theme to openly talk about in Korean society, and that the play will be performed for the first time in Korea," said the trio.
"Menopause" consists of 26 famous pop songs that were big hits during the 1960s-1980s, such as "Only You," "YMCA," "Pretender," as well as Tina Turner's "What's Love Got to Do with It." At the end of the play, the audience is allowed to go onto the stage to dance with the actors and actresses.
-What are the fruits of Mamma Mia?
"That 40-somethings like us live a role in a play seems to give hope and courage to other middle-aged Koreans." (Lee Kyung-mi)
"Since Mamma Mia, the audience has more chunks of the middle-aged." (Chun Soo-kyung)
When Ms. Park felt it's her turn, she became embarrassed and said, "I've just forgotten what I was about to say!"
Bursting out in laughter, the other two commented about her.
"That's one of the symptoms of menopause!" (Lee Kyung-mi)
"These fun episodes are on the 'Menopause.'" (Chun Soo-kyung)
May 3-July 31. COEX Art Hall, Samsung-dong, Gangnam-gu, Seoul. 60,000won. For more information, call 02—6000-6790.
Sue-Jean Kang sjkang@donga.com