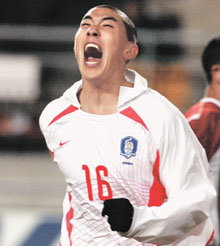 Head coach Johannes Bonfrere and Korean players on the national football team looked gloomy when they gathered on March 28 at the National Football Training Center (NFC) in Paju, Gyeonggi Province in preparation for the final Asian qualifier game with Uzbekistan on March 30 in Seoul World Cup stadium for the 2006 FIFA World Cup in Germany. Was it possibly because he gave off a sense of shock and disappointment to Korean fans with the defeat in the match against Saudi Arabia?
However, the gloomy mood changed when "he" appeared. The players regained their vitality when he started to play energetically just like the "Robocop".
"He" was Cha Duri (25, Frankfurt), also known as "Cha Boom Jr.". He returned to the national team after a long departure and was given the crucial responsibility of revitalizing Korean football.
The match against Uzbekistan will be the stage on which Cha Duri will fly again. His mission is to save Korean football, which is facing a crisis after being beaten by Saudi Arabia by the score of 0 to 2.
Cha was suspended for four matches last September when he attacked an opposing player with his elbow in the second round of a World Cup qualifier away game with Vietnam. As he is now allowed to participate in games as a national team member, it is only natural that he would be emotional and determined.
Having returned to Korea on March 23 and trained separately, he showed up at the NFC in Paju that day, looking determined. He bit his lip, saying, "I want to play in the World Cup in Germany. To that end, we must defeat Uzbekistan. I will do my best if my coach gives me a chance."
Cha is expected to play as a right wing in the place of Lee Chun-su (Real Sociedad) who failed to show a good performance in the game with Saudi Arabia due to insufficient playing sense. Although he has to compete with Chung Kyung-ho (Gwangju), who is assigned to the same position, he is most certain to be selected to play, given his excellent performance in the German Bundesliga and his physical strength, known as "iron".
In particular, the expectations on him are all the greater, as Korean side attackers fell short of making a breakthrough, failing to make cross passes in the game with Saudi Arabia, being blocked by intense pressure in the midfield zone and strong defense.
As he improved his cross pass ability, which had been pointed out as a weak point, Cha has showed a strong performance with three goals and six assists in the Bundesliga in this season.
Jong-Koo Yang yjongk@donga.com